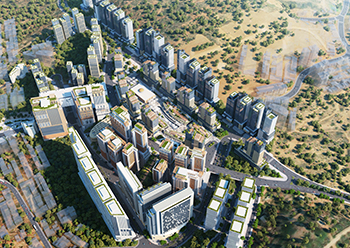 Thakher Makkah will comprise about 100 land plots for hotels, and residential, commercial, and service-related areas.
Work is nearing completion on the first phase of the SR26-billion ($7 billion) Thakher Makkah project, while the second phase of the 320,000-sq-m mixed-use development located 1 km from the Grand Mosque (Haram), will be delivered next year, says Thakher Development Company.
In an exclusive interview with Gulf Construction, Thakher Development Company CEO Eng Abdulaziz bin Saleh Al-Aboudi says: "Thakher Makkah is a game changer in the property, hospitality, and retail space, by offering new investment and sustainable growth opportunities, collaborations and living experiences, just a walk away from the Haram."
Thakher Development Company is the master developer of the masterplan and infrastructure of the project, which is just 1 km from the Grand Mosque (Haram). Designed to be the preferred destination for visitors in Makkah, it aims to change the real estate scene in the holy city and contribute to its sustainable development.
Upon completion, the project will comprise about 100 land plots for hotels, and residential, commercial, and service-related areas. Residential and hotel apartments units will be available in various categories, and the units will be also available for freehold ownership, he says.
The project's infrastructure facilities include a road network, tunnels, sidewalks, and landscaping. A shopping centre within the project will contain 124 stores for international and local brands, and include entertainment centres for children, cafes and restaurants. The project, which provides up to 10,000 car parking slots, contains a mosque that can accommodate 5,000 worshippers.
Design work has been ongoing for a few years now with flexibility built into the plans to accommodate any changes that might be required, Al-Aboudi points out.
The urban plans are designed to create a high quality of life for all residents and visitors. The project is being carried out in phases to ensure that both infrastructure and superstructure work is implemented smoothly.
"The project's first phase is almost completed, while the second phase is expected to be delivered in 2024. Multiple phases will follow till the completion of the project," he says.
To implement this massive project, Thakher Development Company has partnered with a number of consultants including CIMS, RMJM, SAK, HVS, Knight Frank, Meinhardt, HVS, CA+, Khatib & Alami, AlArif and many more.
According to the developer, Thakher Makkah has already attracted interest from international hospitality chains and will include the Radisson Hotel, the Park Inn by Radisson, and the Novotel Hotel, which will be the brand's largest in the world in terms of the number of rooms.
In April this year, Thakher Development Company announced the sale of several land plots within the project. These include a deal worth more than SR1.5 billion for the construction of three hotel towers which will be managed by Al Khozama Investment Company (an Al Faisaliah Group company); another with Madr Investment Company, which purchased plots to develop two hotel towers; a memorandum of understanding (MoU) with The Address Investment Company for a plot to construct a residential hotel tower managed by Al Khozama Investment Company.
On completion, the development will be able to host more than 1.6 million visitors and pilgrims in line with objectives of Vision 2030. It also aims to provide 15,000 direct jobs and 18,000 indirect jobs.