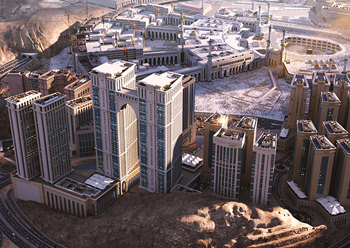 Jabal Omar Project ... the development has just seen the opening of the 1,484-room Address Hotels and Resorts.
A total of 1,845,045 pilgrims performed the Hajj (June 26 to July 1) this year, according to figures released by Saudi Arabia's General Authority for Statistics (GASTAT). This is the highest number of pilgrims that Makkah and Madinah have hosted since the outbreak of the Covid-19 pandemic in 2020 and almost double the number that visited these holy cities last year – when it was capped at 1 million.
Of these, 1,660,915 pilgrims came from outside the kingdom and domestic pilgrims totalled 184,130. Some 1,593,271 pilgrims arrived through airports, while 60,813 arrived through land ports, and 6,831 through seaports.
This puts into perspective the enormous boarding, lodging, transportation and logistical challenges faced by the holy cities in catering to such a huge influx of pilgrims during the Hajj season.
According to official data for 2019 – the year before the pandemic hit the global travel industry, the kingdom earned about $12 billion from the 2.6 million pilgrims that visited Makkah and Madinah for Hajj, and another 19 million visitors for the Umrah, an Islamic pilgrimage that can be undertaken at any time of the year.
And Saudi Arabia is looking to attract an even larger number of visitors to these holy cities, in line with its tourism ambitions outlined in its Vision 2030 programme. Towards this goal, it has taken a number of measures to ease visa restrictions over the past year and now offers four options for Muslims to perform Umrah: the transit visit visa, family visit visa, personal visit visa and visa on arrival.
Hence, it goes without saying that Makkah and Madinah must continue to press ahead with plans to cater to the surging number of pilgrims. The cities are currently witnessing an increase in investment in its real estate as international hotel chains, luxury homes and mixed-use developments need to be developed. In addition, the cities' infrastructure – right from water, power and sewage networks to their transport systems – is being expanded and upgraded.
Last year, 80 new prayer halls that form part of the third phase of expansion of the Grand Mosque in Makkah opened to worshippers for the first time. The project launched in 2015 allows the mosque to accommodate nearly 2 million worshippers on a 1.5-million-sq-m site. Neighbouring properties worth billions of dollars were acquired to provide the land that was needed for the expansions of the main building, squares, pedestrian tunnels, central service station and the first ring road.
Meanwhile, work is under way on the largest expansion of the Prophet's Mosque in Madinah to increase its capacity to 1.6 million worshippers. The project is being carried out in three phases.
Among the key projects under way in Makkah are the $27-billion Masar Destination, Jabal Omar Development and the $7-billion Thakher Makkah, while Madinah also has its fair share of projects including the Rua Al Madinah development and projects at the Knowledge Economic City (KEC), such as the SR1.3-billion Knowledge City Forum.
All these mega projects will boast a series of hospitality facilities to boost the number of hotel rooms in these cities which already host the largest share of hotels – around 75 per cent – operating in Saudi Arabia. These include 1,151 licensed hotels in Makkah with about 450,000 hotel rooms, while there are about 75,000 hotel rooms in Madinah.
In the past few months alone, key international hotel chains such as the Four Seasons Hotels and Resorts and InterContinental Hotels Group (IHG) have announced plan to open properties in Makkah and Madinah. The 245-room Four Seasons Hotel Madinah is currently under construction in the heart of Madinah, a short distance from the Prophet's Mosque.
IHG will open hospitality facilities in Makkah and Madinah, as part of plans to develop 12 new hotels across the kingdom in partnership with Tasheed Contracting Company.
Meanwhile, the AlUla region – which forms part of the wider Makkah and Madinah region – is now receiving considerable interest as a global heritage and cultural destination, and its development is being spearheaded by the Royal Commission of AlUla (RCU).
Plans were recently announced for four new luxury hotel projects, all of which will highlight the region's beauty and rich history. These include the Sharaan Resort, designed by Jean Nouvel, inspired by the ancient techniques of the Nabataean inhabitants; Chedi Hegra, the first hotel to be located in the Unesco World Heritage Site of Hegra; and upscale eco-lodge Dar Tantora by The House Hotel; and the Azulik AlUla Resort, a stunning eco-luxury property in the Nabatean Horizon District.
The RCU is also pressing ahead with a number of museum projects in AlUla. It has recently appointed key architects –Lina Ghotmeh and Asif Khan – for two prominent museums in the region. Ghotmeh will be responsible for designing the contemporary art museum, while Khan will lead the design of the museum of the Incense Road.
Key Projects
• Jabal Omar Development: The iconic Jabal Omar development witnessed the opening in July of the Address Hotels and Resorts, which boasts 1,484 rooms and suites – the largest hotel within the Address Hotels + Resorts portfolio.
The massive Jabal Omar Development, a mixed-use real estate project within walking distance of the Grand Mosque, continues to see significant progress on its second, third, and fourth phases. Jabal Omar Development Company (JODC) said Phases Two and Three are targeted for completion by the year-end and Phase Four by Q4 2024.
The project will consist of 15 towers, including four- and five-star hotels with 5,000 keys that will be operated by internationally renowned hotel operators. JODC has signed strategic partnership agreements with several key construction and project management companies, including Fluor International, which will act as the project management consultant for the project. On completion, the Jabal Omar master project will have a built-up area of over 2.5 million sq m with a total of 40 towers that include hospitality, commercial, and residential developments.
• Masar: Infrastructure work on $27-billion Masar Destination in Makkah is nearing completion, while construction work is progressing on the first package of hotel projects, according to its owner and developer Umm Al Qura for Development and Construction Company.
The cultural destination aims to transform the western part of Makkah under an ambitious redevelopment programme. The project is mandated by a Royal Decree for the development of King Abdulaziz Road, involving a total area of 1.2 million sq m.
The development's masterplan is based on a main two-way road, 80-m wide, which allows for the seamless movement of vehicles and buses to and from the Holy Mosque. The two sides of the road will be separated by an urban cluster traversed by a pedestrian boulevard that will allow pilgrims to move easily to the Al Haram Al Sharif area from the western entrance of Makkah without hindering traffic flow.
Masar Destination will include 3.8 million sq m of buildings serving the hospitality sector comprising 40,000 hotel rooms and apartments; 2.1 million sq m of residential buildings offering 10,000 homes; a 317,870-sq-m commercial zone; 987,000 sq m of office spaces; 28,700 sq m of public service centres; and 272,290 sq m dedicated to health services.
• Thakher Makkah: This $7-billion project being developed by Thakher Development Company spans an area of 320,000 sq m and is located about 1 km from the Grand Mosque and a few kilometres away from the holy sites of Muzdalifah, Mina and Arafat. The first phase of the project is almost complete, while the second phase is expected to be delivered in 2024. The project will include about 100 land plots for hotels and residential, commercial, and service-related areas (see Page 14).
• Rua Al Madinah: Rua Al Madinah Holding Company, a wholly-owned subsidiary of the Public Investment Fund (PIF), is moving ahead on plans for the Madinah Central Area (MCA) development that will ultimately deliver greatly expanded retail and hospitality assets in Madinah. The project involves redeveloping an area of 1.5 million sq m and adding more than 47,000 hotel rooms by 2030. As much as 83,000 sq m of the project's masterplan will consist of green areas, with open and green spaces comprising 63 per cent of the total land area. Work on the project's infrastructure has begun, and aims to boost Madinah's capacity to host 30 million pilgrims by 2030 (see Page 9).
Among recent developments on the development, Marriott International has signed an agreement with Rua Al Madinah Holding to open eight new hotels in the Saudi city, adding 4,400 rooms across eight of the company's brands; while Accor will operate three hotels – the 262-key Fairmont hotel and residence, the 466-key Swissôtel hotel and 328-key Novotel hotel – which would add over 1,000 hospitality units to Madinah. Hyatt Hotels Corporation had earlier signed up to operate three hotels, the first Hyatt hotels in Madinah, as part of Rua Al Madinah project.