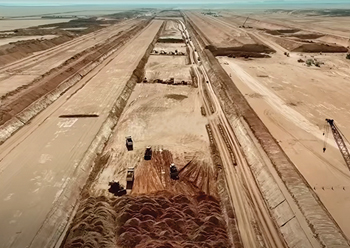 A large team of ground engineering specialists is on site creating the corridors that will house the two linear buildings of the Line and the related underground infrastructure.
Neom is real and is taking shape now, putting paid to doubts that this ambitious mega-city planned for an area of 26,500 sq km in the northwest of Saudi Arabia would ever be embarked upon.
A construction video released in January this year proclaimed that the $500-billion futuristic city is a reality with a bold statement "the future of work living and sustainability is coming to life".
It showed work in progress on multiple fronts: the luxury island destination Sindalah, the snow-capped mountain destination Trojena, the revolutionary linear city The Line, and the advanced industries hub Oxagon. It also affirmed that in a bid to put Neom on the global tourism and events calendar a number of sports tournaments have already been hosted in the city that is being built from scratch. This apart, world-leading enterprises such as Enowa, an energy, water and hydrogen company, and Neom Tech & Digital Company have been established; and the world's largest green hydrogen production plant is being set up and plans are being drawn up for the next generation of transport with Volocopter.
The plans seemed ambitious when first announced in 2017 by Saudi Arabia's Crown Prince and Deputy Prime Minister HRH Mohammed bin Salman bin Abdulaziz, to turn a remote region of the country into a high-tech semi-autonomous state that re-imagines urban life.
As details of the plan emerged with announcements of The Line, many shrugged it off as quixotic … even impossible to achieve.
However, the futuristic city – which enfolds an area roughly the size of Belgium – has indeed grabbed attention over the past year with numerous announcements and appointments and fuelled curiosity worldwide, given its ambitions to challenge the conventional.
The Line
Earlier this year, Neom signed up three global consultancy majors as delivery partners for The Line, a 170-km belt of hyper-connected future communities which aims to provide an unprecedented urban living experience with no roads, cars or carbon emissions.
Under the deal, Atkins, Parsons as well as US-based engineering group Jacobs and its joint venture with Saudi oil giant Aramco and sovereign wealth fund Public Investment Fund (PIF) – Jasara Project Management Company – will provide project management and construction management consultancy (PMCM) services for the project over a five-year period.
Once completed, the cognitive city will comprise two mirror-clad linear buildings that are 200 m apart and running parallel for 120 km across coastal, mountain and desert terrain starting in the west at the Gulf of Aqaba, continuing through the Sharma Valley and ending at Neom International Airport within the upper valley region.
The two buildings, which rise up to 500 m, will be connected via walkways, and a high-speed train that will run underneath them within an infrastructure network known as The Spine.
The Line also boasts concept designs such as integrated vertical farming, a marina for yachts, and a sports stadium built up to 305 m above ground.
According to Giles Pendleton, Executive Director of Neom: "The mirrored facade will be penetrated by natural light and the canyon [inside of the structure] has been scientifically modelled in a way that makes the most of the sun's high arc in summer and low arc in winter. In terms of the vegetation, the things that need light would be where the light is. But not all plants want total daylight. A lot of plants prefer shade or semi-shaded areas. They will be chosen accordingly for where they sit within the plan."
While The line is in a seismic zone, Pendleton says that this challenge has been resolved "early on with smart engineering solutions and global best practice".
He adds that 200 m wide by 500 m tall – and 170 km in length – was the best engineered solution for The Line to accommodate nine million people. "It wasn't random. These numbers are driven by research and science – when it comes to elements such as the depth of light, air circulation and so on," Pendleton explains.
He points out that the city has been designed in line with micro-climate principles. "The Line is scientifically engineered to make the most of that knowledge. The arc of the sun will mean that the outdoor spaces will not be getting sun for all 10 hours of the day because of the blade effects of the tall structures. This mitigates against heat build-up. And in terms of winds, the blades will buffer the outer skin, leaving the canyon completely free of issues relating to wind and dust. Meanwhile, the top of The Line will be open so that the canyon can breathe. On top of that, we won't have pollution like other big cities – so you will be able to enjoy the outdoors to the max," he continues.
The modular city, which represents a new approach to urban design, comprises 135 modules that layer city functions vertically while giving people the possibility of moving seamlessly in three dimensions (up, down or across) to access them. Each module contains eight buildings founded on large-diameter bored piles.
Different from just tall buildings, this concept layers public parks and pedestrian areas, schools, homes and places for work, so that one can move effortlessly to reach all daily needs within five minutes.
The city's design will be completely digitalised, and the construction will be industrialised to a large degree by significantly utilising advanced construction technologies and manufacturing processes.
Designed to eventually accommodate nine million residents, The Line will be built on a land area of 34 sq km and will run on 100 per cent clean energy. It will be surrounded by Neom's pristine surroundings as 95 per cent of the region will be protected for conservation.
A large team of ground engineering specialists is currently on site creating the corridors that will house the two linear buildings and the related underground infrastructure. Among them are the Saudi unit of Bauer, Keller and Trevi.
Bauer, an international construction and machinery manufacturing group based in Germany, has secured two construction work contracts for The Line, involving the installation of 70-m-deep bored piles up to 2.5 m in diameter.
Also from Germany, Keller has signed an umbrella framework agreement with respect to the project, and is working on a portion of Module 40 which is targeted for completion this year.
According to a MEED report, after the excavation and dewatering works are completed, piling activities will soon move to the marina area which occupies modules 45, 46 and 47 of The Line.
In what is described as the largest excavation project in the world, work is currently under way on the marina where about 1 million cu m of earth is being moved every week. The marina is also proposed to include a 45,000-seat sports stadium built 300 m above ground in between The Line buildings.
So far, the piling work for The Line has been concentrated on Module 43, where more than 4,500 piles have been installed. Work has reached a peak of more than 60 piles a day, making it the largest piling project in the world, according to the report.
Other contractors such as joint ventures of Spanish construction giant FCC Construction and South Korea's Samsung C&T Corporation are engaged on drill and blast tunnelling contracts. The FCC Construction JV partners include SA/China State Construction Engineering Corporation/Shibh Al-Jazira Contracting Company, while Samsung C&T Corporation partners are Hyundai Engineering and Construction Company and Saudi Archirodon Company.
The tunnels work extends over 28 km in length and provide separate tunnels for high-speed and freight rail services.
Beijing-based China Railway Construction Corporation (CRCC) was awarded a contract in 2021 for the adits and portals package serving the bored tunnels.
Bids are due by next month from prequalified contractors to deliver the next five packages of tunnels for a railway junction that will connect The Line with the network from Oxagon.
Trogena
With Trogena set to host the 2029 Asian Winter Games, Neom has been pushing ahead with plans to develop world-class hospitality facilities within the mountain destination. Construction on Trojena began in December and Neom expects to welcome its first guests in 2026.
Located 50 km from the Gulf of Aqaba coast in the heart of Neom's mountainous region, Trojena will be the Gulf's first outdoor ski resort, staging world-class sporting events, art exhibitions, concerts, and cultural festivals. It spans over 1,400 sq km, with elevations ranging from 1,500 m to 2,600 m. The destination will feature 3 km of ski slopes, ultra-luxury and wellness hotels and resorts as well as over 100 indoor and outdoor experiences available all year-round.
The all-weather ski slopes will extend above and through the buildings, blending the indoor and outdoor experience. The scenic views and stunning building designs extend over 60 km, from the Vault to the Slopes and everywhere in between.
A total of 57 sq km will be dedicated to the main development, which will benefit from the unique mountain climate in the region, where temperatures drop below zero in winter.
Among the hotels being developed is The Chedi Trojena, which will be managed by General Hotel Management (GHM) – the creator of stylish hotels and resorts worldwide – and a next-generation, ultra-sustainable retreat run by Collective Retreats, a pioneer in outdoor experiential hospitality.
Nestled within the Slope Residences atop the mountain peaks, The Chedi Trojena will be part of an iconic residential village in one of Trojena's six distinctive clusters: Gateway, Discover, Valley, Explore, Relax and Fun. The hotel's location in the Relax Cluster serves as a sanctuary for reflection, recreation, and rejuvenation.
Slated to open in early 2026, the retreat, meanwhile, will feature around 60 open-air guest rooms and innovative meeting space concepts as well as dramatic water features, communal campfires and inspired culinary experiences.
Bechtel, a leading US engineering, construction, and project management company, is the project management consultant for Trojena.
Sindalah
Plans for Sindalah, the first luxury destination within Neom on the Red Sea, were made public at the end of last year with the island expected to start welcoming guests from 2024.
Spread over an 840,000-sq-m area, Sindalah is one among a group of islands that will be developed within Neom.
The island resort will feature several tourist attractions, including an 86-berth marina, a beach club, a yacht club, a holistic spa and several hotels.
Providing one-of-a-kind nautical experience, Sindalah will offer 413 ultra-premium hotel rooms, in addition to 333 top-end serviced apartments and 38 unique culinary offerings. Among the latest hospitality chains that the resort has attracted is Marriott International which in early March announced a multi-deal agreement that includes Saudi Arabia's first Autograph Collection Hotels property, as well as two Luxury Collection properties.
According to a recent Arab News report, the island is designed by world-class architects at Luca Dini Design and Architecture, with each structure created to blend with its environment to achieve harmony between nature and the urban development around it while ensuring that its habitat remains untouched and preserved.
"The buildings are designed as rocks, which have always belonged to the island, and which nature has sculpted. Sindalah sand and seashells are the basis of aggregates for the village building materials. Unique semi-transparent materials capture the light of the setting sun and ignite the facades of the hotels facing west. Precious coloured crystals set under the roofs of the Marina Promenade speak the language of corals and capture the reflected light of the sea," Arab Times quoted Luca Dini, CEO of Luca Dini studio, as saying.
Oxagon
Neom's advanced manufacturing and innovation city Oxagon is designed to be an octagonal-shaped industrial city that will cover 48 sq km, construction works on which have already begun.
To facilitate work on the project, Duba port is being expanded with the first phase of work awarded to Netherlands-based Boskalis, Belgium's Besix and the local Modern Building Leaders (MBL) under an estimated SR3 billion contract and the second phase now out for tender, according to MEED.
At Oxagon, Engineering Consultants Group (ECG), a leading engineering consultancy firm based in Egypt, has secured a major contract to develop the design for the container activation terminal buildings. These new buildings will be located in Zone C on a 342,999-sq-m area. The key contract was awarded by Bin Omairah Holding, a leading provider of multi-utility infrastructure solutions in the region.
ECG said the scope of work includes readying the concept design for the Oxagon City featuring customs buildings (with a built-up area of 2,700 sq m), administration offices and other facilities such as canopy structures, security and fences, and gates and barriers.
In addition, ECG will be responsible for setting up road and utilities networks and canteen and lockers buildings.
Meanwhile, Enowa has signed up Japanese trading company Itochu, and French water, waste and energy management solutions specialist Veolia for a joint collaboration to develop a first-of-its-kind selective desalination plant powered by 100 per cent renewable energy within Oxagon.
Set to produce its early-water in 2024, the new facility will be key to realising Enowa's ambitions to create a sustainable, abundant water supply for residential, industrial, and commercial use. The new state-of-the-art plant will use advanced membrane technology to produce separate brine streams.
The new plant will meet the water needs of Neom with a production capacity of 500,000 cu m of desalinated water per day by project completion in 2025, approximately 30 per cent of Neom's projected total water demand.
Also being built at Oxagon is a major green hydrogen project by Neom Green Hydrogen Company (NGHC) which comprises a joint venture of Acwa Power, a leading Saudi developer, investor, and operator of power generation, water desalination and green hydrogen plants worldwide, US-based Air Products, a world leader in industrial gases, and the developer of Neom. The joint venture last month closed a financing agreement worth $8.5 billion for the project, according to Acwa.
Other components
While the stage is being set for these mega components of Neom, the ambitious development has already launched operations of its Neom Media Village and Bajdah Desert Studios, which together comprise the country's largest sound stages and film production support facilities.
Neom Media Village currently features one 2,400-sq-m state-of-the-art sound stage, complete with back-of-house facilities comprising make-up rooms, green rooms and production offices, with three further stages under construction. It features a total of 10 sound stages – with three already operational and a further seven, including a high-tech volumetric production stage, now set for launch.
The Bajdah Desert Studios boasts six 3,000-sq-m sound stages with world-class production facilities, including set production offices, construction warehouses, prop shops, wardrobe, SFX facilities and backlot space to support complex set builds, according to Neom.
The production facilities also offer a total of 350 dedicated accommodation units for cast and crew, supported by lifestyle facilities.
In June 2021, Neom had announced plans to establish the world's largest coral garden at Shushah Island in the Red Sea in a joint venture with King Abdullah University of Science and Technology (KAUST). The 100-hectare Shushah Island Coral Reefscape will showcase reef restoration innovations and accelerate solutions for conserving coral reefs in a changing climate.
Transport
Neom's zero-car environment is part of a 100 per cent sustainable transport system – with zero pollution and zero wait time.
Most of the transport network will be housed within The Spine, a subterranean infrastructure corridor running the length of The Line, which also include the high-speed railway lines.
Pendleton elaborates: "The Spine will link the international airport to the Gulf of Aqaba on the coast in four stops. A metro system will allow local travel from module-to-module. Plus, there will be horizontal transport corridors at four different heights that might well be pods, light rail or even horizontal elevators – we are still deciding on that particular solution. If you're on the 50th floor and you want to go 2 km to the stadium to watch the Neom Football Club play Barcelona, for instance, you would jump on one of the various systems. It'll either be 10 floors above you or 10 floors below. We're trying to cut down on people's commutes.
The railway network will comprise three lines catering to The Line – that will provide end-to-end journey time of 20 minutes on the 170-km stretch – and a fourth line linking Oxagon, according to MEED.
Waterborne transport is currently being designed by Idom, a leading Spanish multi-national group providing consulting, engineering and architecture services, which will collaborate with Neom on the design of a network featuring a zero-emission fleet.
And what is the timeline for the delivery of the project? Pendleton explains: "In mid-2026 you'll be able to fly into the new international airport, jump on a high-speed train and get to any part of Neom. Before that, there will be a tourism uptake and the first residents in other regions in Neom, like Trojena. The plan is to have one million people living on The Line in 2030 and then nearly nine million by 2045."