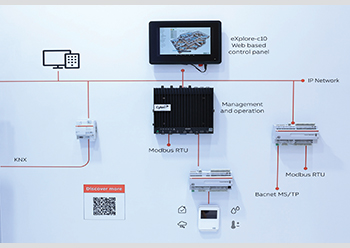 ABB Cylon BMS, a holistic and integrated intelligent building solution.
ABB, a technology leader in electrification and automation, has unveiled a new smart building management system (BMS) that provides scalable automation and energy control for buildings, regardless of their size, to make them carbon neutral.
The ABB Cylon Smart Building Management Systems were launched for the region at the Light Middle East and Intelligent Building Middle East 2023 event in Dubai, UAE, last month.
Through the implementation of open protocols, the use of common and secure internet standards, and the inclusion of emerging technologies, ABB Cylon products and solutions can meet the needs of various facilities, says ABB.
The BMS enables buildings to automate functions and reduce energy costs with energy control and management. It also allows real-time monitoring and control of the building facility, according to ABB.
Announcing its launch, Thamer Al Omari, the Product Marketing Director for Smart Building, said: "We are proud to present the ABB Cylon BMS, our holistic and integrated intelligent building solution. It is our latest offering in the smart building management vertical and it provides customers with a comprehensive solution for smarter and more efficient buildings."
At the event, ABB also showcased other primary products in its smart building vertical including the new Zenit wiring devices range, the ABB i-bus KNX, the ABB SmartTouch 10, the ABB-free@home and Emergency Lighting.
ABB, in 2020, had acquired Cylon Controls, which offers a range of products including heating, ventilation and air conditioning (HVAC) controls and building energy management systems. The company has since integrated Cylon Controls' smart building portfolio into its offerings, allowing it to provide real-time data, operational analytics, and integrated applications for efficient and sustainable management of buildings.
ABB says its Cylon BMS provides a comprehensive approach to smart building management by seamlessly connecting and integrating multiple BMS solutions to guarantee optimal building management and monitoring.
Through intelligent air-conditioning, heating, and emergency lighting, it can ensure greater energy efficiency, increased levels of security, and can maximise occupant comfort and health, it states.
With buildings accounting for more than 30 per cent of the world's energy consumption while contributing to 40 per cent of global carbon emissions, ABB says it is using smart building solutions to address the growing carbon footprint of buildings around the world.
With its 'Mission to Zero' programmes, ABB aims to use smart energy and asset management to make any building energy-efficient and carbon neutral and achieve net zero emissions by 2030.
"We believe that the buildings in which we live and work will play a critical role in the race towards achieving net-zero carbon emission goals. Digital technologies and energy management solutions that sense, monitor, control, and optimise the built environment while interacting with individuals will become the core of decarbonising buildings. So, we will see intelligent buildings, where technology helps reduce energy consumption and increase energy efficiency," he concludes.
ABB has supplied its home and building automation products such as the i-bus KNX to a number of projects in the region including Alfanar's head office, Princess Noura University for Women, Mövenpick Hotel Riyadh and Wyndham Hotel in Saudi Arabia; Al Areen Resort and Spa in Bahrain; Le Reve Tower, Marina Mall Abu Dhabi, Al Raha Beach Hotel & Retail Mall, Grand Cineplex, Adnec Capital Gate and Etihad Towers in the UAE; and Khalifa Stadium and Sports Hall in Qatar.
ABB's intelligent predictive maintenance solution for power supplies installed at Burj Khalifa keeps this renowned tower running 24/7. Using the ABB Ability Electrical Distribution Control System, the tower's facility management team can remotely monitor the power supply of each of the 400 electrical loads at the site, including the 57 elevators and a 24 MW air-conditioning system, among other loads. One-click remote access via smartphone, tablet or PC allows employees to monitor and manage key assets in real time.
The maintenance service installed at the Burj Khalifa can reduce operational costs by up to 30 per cent by using real-time sensor data and condition monitoring, replacing routine maintenance work. However, the main benefit is the knowledge that everything is monitored in real-time by ABB Ability, says the company.