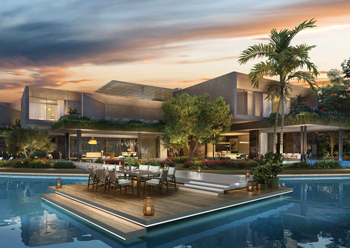 Lanai Island ... to take shape at Tilal Al Ghaf in Dubai.
UAE-based Majid Al Futtaim Properties has announced that one of its units – Majid Al Futtaim Communities – launched a new ultra-luxury concept, Lanai Island, within its flagship community, Tilal Al Ghaf, in Dubai.
Rising from the crystal waters of Lagoon Al Ghaf, Lanai Island is the first phase of Island Estates, a new ultra-luxury concept under the banner of 'Signature Living by Majid Al Futtaim.'
Designed in collaboration with award-winning South African architect firm Saota and world-renowned Kelly Hoppen Interiors, Lanai Island is a secluded retreat that caters to the elite lifestyle needs of the region's growing segment of ultra-high-net-worth-individuals (UHNWIs), it stated.
The project comprises a limited release of 13 luxurious mega-mansions, including four Edge and nine Shore mansions.
"Lanai Island redefines the concept of luxury living, it is something the region hasn't seen yet. Combining the seclusion and tranquility of living in an island paradise with easy access to Dubai's urban hubs, its mega-mansions are crafted to deliver a lifestyle that exceeds expectations," explained Majid Al Futtaim Communities CEO Hawazen Esber.
Lanai Island, the first of the two private islands to be released into the market, is home to four eight-bedroom Edge mansion homes, which offer a gross floor area of 30,000 sq ft. Situated on large corner plots with 80 m of open waterfront, the average plot size comes in at just under 25,500 sq ft.
In addition to eight ensuite bedrooms, each mansion features double-height living and dining areas, a modern fully-equipped show kitchen, a rooftop deck with 360 views of the surrounding Lagoon, a home theatre, a home gym and spa, and a swimming pool and hot tub, he stated.
Lanai Island's Shore mega mansions, of which nine are available in the first release, offer a gross floor area of 23,000 sq ft and 40 m of open waterfront, with an average plot size of 24,000 sq ft.