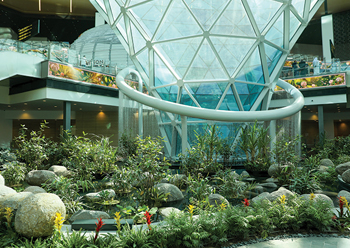 'Orchard', an indoor tropical garden at Hamad International Airport.
Hamad International Airport (HIA) has announced the completion of the first phase of its expansion project leading to the opening of 'Orchard', an indoor tropical garden with a water feature and a second airport hotel.
With Phase A of HIA's expansion now up and ready, the Qatari authorities will start work on Phase B of the expansion early next year, that when completed, will boost the airport capacity to well over 70 million passengers.
On the expansion work, Chief Operating Officer Engineer Badr Mohammed Al Meer said: "Our growth plan will see us welcome over 58 million passengers annually – offering global travellers the best services the industry has to offer. Through the expansion, we have upgraded our facilities and offerings, creating the ultimate destination for passengers," he stated.
The Orchard is an indoor tropical garden with a beautiful water feature that will be the focal point for visitors at HIA. It will boast a variety of flora – including more than 300 trees and 25,000 plants sourced from sustainable forests from around the world.