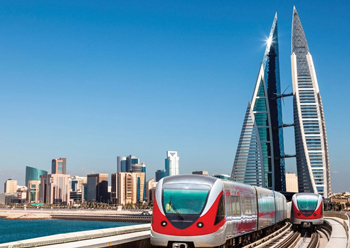 The 109-km-long Bahrain Metro network will be developed in phases.
Bahrain is set to launch the tender for the construction of its metro project in the first quarter of 2023, reported the Gulf Daily News, our sister publication, citing a senior government official.
Estimated to cost around $2 billion, the Bahrain Metro project marks an important milestone as it will provide a fast, comfortable, reliable, sustainable and modern transportation system in the kingdom.
An ambitious project for Bahrain, the metro network will be 109-km long and developed in phases. The 29-km-long Phase One will include 20 stations which will be operated through two lines – one linking the airport to Seef District, while the other will connect Juffair to the educational area in Isa Town.
"Bids will be invited after announcing the list of consortiums which are qualified to implement the project," said Assistant Under-secretary for Land Transportation Hussein Ali Yacoub. "The Bahrain Metro, one of the most important strategic projects, aims to provide a developed and sustainable mass transit network in partnership with the private sector."
He lauded the government's support to the project, which would provide greater guarantees for the private sector to invest in these schemes and ensure their feasibility.
Highlighting the importance of the project, Al Yacoub said it will contribute to providing new types of mass transit, in line with the 2030 Economic Vision.
The pre-qualification tender was issued and closed in May this year. Transportation and Telecommunications Ministry evaluated 11 bids which were submitted by consortiums that include international and local companies specialising in the field of trains and construction.
Bahrain Metro has been identified as one of the country's strategic projects which will be implemented in partnership with the private sector.