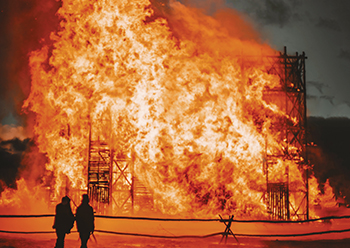 The risks posed by fire can be devastating and multi-faceted.
UK-based Biosite Systems, which provides technology-enabled solutions that optimise operational efficiency, improve health and safety and ensure compliance on site, will be showcasing its EN54 certified Wireless Fire Alarm system alongside a range of other safety products at its stand at The Big 5 show.
Biosite's wireless fire alarm system has been developed for construction and features an innovative automatic integrity check and zoning function. Also featuring a first aid alarm, the system integrates with access control systems to support effective evacuation and can be reconfigured to adapt to the changing needs of a construction site, says the UK-based company, which is part of the Assa Abloy Group, a global leader in access solutions.
"When it comes to fire safety, construction sites can pose significant challenges, particularly due to the nature of the environment and how this evolves as a project progresses," says Mike Bryant, Commercial Director, Biosite Systems.
The set-up of a construction site and all the potential variations and stages this may entail means it is not always straightforward to specify a suitable fire safety system, he says. These challenges include deciding on what level of protection is required or should be considered; how to ensure worker safety and protection against fire in different scenarios, including in a multi-storey building or on an infrastructure project; and where and how a fire system should be installed.
This apart, the construction environment may change during the duration of a project, so how this could impact the suitability or installation of fire safety systems. Also, how to ensure a fire system is operational and is performance tested … the myriad of considerations means it is important to consider specific-site challenges and tailor a solution suitable for the duration of a project, Bryant says.
The risks posed by fire can be devastating and multi-faceted. The most obvious being the risk to life – both to those working on the site and those who may occupy an area; risk of damage to existing buildings; and delays to project progress; and the costs of dealing with a fire.
With these challenges and risks in mind, it is important to carefully consider the type of fire alarm system used on site, Bryant points out.
Traditional fire systems, be they permanent, wired or more basic systems are often not suited to most construction site environments.
"In recent years, temporary wireless systems have become more prevalent as typically they are more flexible and suited to an environment that changes and where fixed installation is not possible. It means a connection is established via radio network rather than wires," says Bryant.
"Linked to this is an integrity check feature – it means you can assess whether all units are working without a manual check and the base station is alerted if there are any issues with the system such as a dropped connection. This is particularly important in, say, a multi-storey building where it is critical to understand if any units are not working, to ensure that workers across all floors would be alerted in the event of an incident.
"A zoning function can also be beneficial, as it means that defined site areas are linked with the fire system – for example, a minor incident could mean that only a proportion of a site needs to be evacuated, to minimise disruption," he adds.
Another consideration is integration between fire and access control systems and what would happen in the event of a site evacuation. For example, it is possible for such integrations to enable turnstiles to enter 'free spin' mode to aid speedy evacuation and for automatic worker roll calls to assist checking who has left and who may still be on site.
Overall, it is important to have a system that is flexible and can meet and adapt to the changing needs of a construction site environment. The duration of a project and available battery life of a fire system should also be factored in.
"Ultimately, the question that should be asked when specifying a fire safety system for construction is – will this system be effective in the event of a real-life fire or evacuation scenario?
Biosite's Wireless Fire Alarm System has been developed specifically for the construction industry to support safety on site and to provide a tailored, flexible solution that is suitable for the duration of a project, he says.