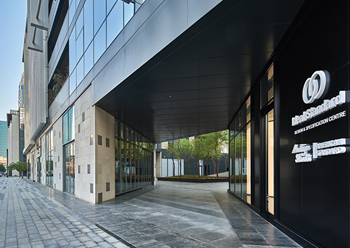 Ideal Standard's new Design and Specification Centre in Dubai.
Ideal Standard, which officially inaugurated its new Design and Specification Centre in Dubai early last month – is focusing on growing its operations to meet local and international demand, according to its CEO for the region.
"We plan to grow our operations to meet demand while also expanding our human capital across the Mena (Middle East and North Africa) region. And of course, we continue our journey of bringing design and performance together to create better products and solutions that meet designers' and customers' needs alongside sustainability requirements," states Ahmed Hafez, CEO at Ideal Standard Mena, in an interview.
The newly-opened design and specification centre is backed by skilled staff who can provide recommendations and advice on bathroom planning and design to any customer, whether it is for luxurious resorts or workplaces and residential properties, he adds.
Ideal Standard designs, manufactures and supplies bathroom solutions for residential, commercial, and institutional buildings. It operates through many factories around the globe, six of which are located in Egypt.
"Ideal Standard contributes to the Egyptian export volume with our production in the country being exported to the European market. We also supply the local market that is currently seeing massive expansions, thanks to the new megacities being developed in Egypt," Hafez says.
"Our operations are growing annually to support our product portfolio that includes classic, contemporary, and modern designs. And we are doing all this without compromising on sustainability and the well-being of society while guaranteeing quality, design, and state-of-the-art technology," he adds.
Ideal Standard is one of the top players in the region in the bathroom solutions sector, thanks to its focus on innovation, design and sustainability.
"For over 100 years, we have innovated and designed with one clear purpose: to make our customers' lives better. We can look back on a proud history of pioneering innovations that truly shaped our industry. We have also built solid relations with the master designers of their era who helped elevate Ideal Standard into the 'Culture of Design'. Our latest partnership with renowned Italian designer, Roberto Palomba, co-founder of Studio Palomba Serafini Associati in 2019, has ushered in a new era of innovation and design that meets the needs of our customers and the demands of modern life," he says.
Hafez continues: "Currently, the three main pillars in the bathroom industry are sustainability, technology, and good design – and we are masters of all three!"
Sustainability
Sustainability is at the core of Ideal Standard's business with the challenges of climate change being a serious concern to the company. Hafez says Ideal Standard is an environment-friendly company and its factories are committed to actively work towards carbon neutrality, use recyclable and sustainable sourced materials, and deliver innovative products that encourage sustainable living.
Figuring high on its list of priorities is water saving, as sustainability is a key factor for its consumers, who have become increasingly aware of the financial and environmental benefits that sustainable living can bring.
"At Ideal Standard, we expect this trend towards water efficiency to continue. We also know that the bathrooms industry can provide solutions to address these issues and contribute towards sustainable living and money saving through water conservation technologies," he says.
Ideal Standard is vigorously growing its portfolio of water-saving products, supplying removable flow regulators pre-fitted as standard into all its basin mixers, and designing its toilets with its patented AquaBlade technology.
Technology
When it comes to sustainability, FirmaFlow is a clear example of the company's leading technologies, which has proved itself with its innovative engineering and extraordinary durability, comfort and control, according to Hafez.
"In 1969, we relied on this technology to pioneer the ceramic disc cartridge and the innovation itself was a major player in redefining the way people used their bathrooms and made it possible to create the single lever tap," he points out.
Another innovation is the recently launched Intellimix, a smart touchless tap that dispenses both water and soap. This technology not only delivers superior hygiene, but also reduces running costs, improves sustainability, and simplifies maintenance processes, the CEO adds.
Design
"When it comes to design, our collaboration with designer Roberto Palomba and his studio Palomba Serafini Associati has resulted in the stunning Atelier Collections, to which we recently added the Tipo-Z line. Tipo-Z, the innovative and visually striking flagship piece, was displayed at Salone del Mobile 2022 exhibition in Milan (Italy) in June, and it embodies the epitome of lightness," he says.
Ideal Standard continuously focuses on meeting its customers' design needs.
"Our presence in the Mena region – a home to many highly diverse groups with design styles that range from conservative to modern – has energised us to expand our product portfolio to include all design styles. This is visible with our Calla collection, which is inspired by classic pieces, and our Joy Neo collection that embodies minimalism. Yet, the Calla and Joy Neo ranges have been developed specifically with flexibility in mind, allowing them to be integrated in a variety of different interior styles. Working with master designers has helped us a lot in driving the brand's overall design philosophy and shaping the bathroom industry," he adds. n
R&D
Ideal Standard's focus on research and development (R&D) has helped it to remain market leaders, according to Hafez.
"We apply an R&D strategy that is centered on design and performance, where design is led by Roberto Palomba and performance by the brand's expertise. Collaboration with Roberto Palomba builds on the company's strong design heritage, besides working with some of the world's most iconic master designers to redefine design for modern living. The collaboration fits perfectly within Ideal Standard's long and successful history of innovation and design. Currently, we are proud of our own history that combines cutting-edge technologies with avant-garde designs," he says.
In addition, its manufacturing platforms use state-of-the-art technologies. The company recently launched Singular, a new approach to specification that brings together the company's deep product knowledge, sector expertise and design services.
"This approach will enable customers to easily choose from thousands of products and discover the right solution for their space. As a simple and flexible process, customers will only need a single supplier and one dedicated point of contact to access to our complete range of product categories, including brassware, sanitary ware, furniture, bathing, showering and accessories for inspiration," Hafez concludes.