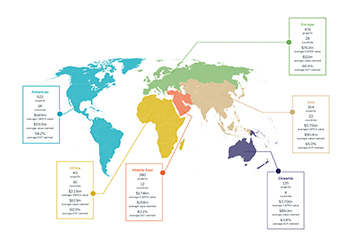 Claims and disputes are battering the world's major capital projects, which are facing significant overruns in costs and delivery, and global headwinds are threatening further exacerbation of the scenario, according to the findings of a recent analysis.
Claims and disputes on 1,602 projects in 100 countries – worth a combined capex (capital expenditure) of more than $2.13 trillion – were investigated first hand by expert consultants for the latest CRUX Insight Report, published by HKA, a leading risk mitigation and dispute resolution consultancy.
Total claims analysed exceeded $80 billion in value, while the cumulative overruns total a staggering 840 years. On average, costs claimed in disputes amounted to $98.7 million per project and more than a third of their capital expenditure – that is, as much as 35.1 per cent of capex!
Of particular interest to the region is the finding that projects in the Middle East are prone to the worst delays – a whopping 83.1 per cent of schedule duration or 22.5 months, on average, according to the report. The report analysed 346 projects in the GCC with an average capex value of $1.61 billion. The cost claimed in disputes in the GCC was $159 million, compared to the rest of the world's average of $81.4 million (see Table 1).
This year's Annual CRUX Insight Report, the fifth of its kind – which distils the analysis of projects HKA have provided services for a five-year period up to the end of July 2022 - highlights the damaging influence of factors such as dysfunctional design processes, skills shortages and supply chain disruption on project performance:
• Design: A significant number of projects are dogged by design-centric failures – design information issued late (24.3 per cent), incorrect design (23.8 per cent) and/or incomplete design (23.2 per cent).
• Workforce: 17.3 per cent of projects were impacted by workmanship deficiencies, 15.3 per cent by low levels of skill and/or experience, and 9.7 per cent by a shortage of workers.
• Supplies: 10.5 per cent of projects were disrupted by late delivery of materials and/or products.
The 2022 analysis also found that projects faced even heavier losses in time. Claimed time extensions average 16.5 months – equivalent to 68.6 per cent of the original planned project duration.
In addition, conflicts over contract interpretation, design failings and change in scope plague projects, with some notable variations in regions and industries.
As well as analysing the underlying causes, HKA proposes actions to pre-empt or mitigate these recurrent conflicts – and further insights to be gleaned via the CRUX Interactive Dashboard*.
Renny Borhan, CEO of HKA, comments: "This new CRUX Insight report reveals the impacts in additional costs and time claimed for the completion of major capital projects, as well as the underlying causes. Based on first-hand investigations by our expert consultants around the world, it quantifies the huge toll on the global economy, our industry and project stakeholders.
"Our unique analysis of the multiple reasons for distress on capital projects can help project promoters and the construction and engineering industry better understand where problems on projects can arise, and ultimately help them achieve better project outcomes."
Significant regional variations
Across all projects globally, the leading cause of claims and disputes was change in scope, followed by conflicting contract interpretations and delayed design information.
In the GCC, the top causes of claims and disputes were change in scope, followed by design information having been issued late and contract interpretation issues (see Table 2).
Within the regional analysis of the dataset, notable variations emerge in both causes and effects:
• Restricted or late access to sites and/or workfaces was one of the top three triggers for claims and disputes in Africa, Asia and Oceania (ranking first, second and third, respectively).
• Nearly one in five projects (18.8 per cent) worldwide are impacted by conflicts over unforeseen physical conditions on site. In the Americas, this is the second most common project pitfall.
• Deficient workmanship was a far more significant cause of contention in Europe and the Americas than in other regions – on 23.2 per cent and 20.3 per cent of projects, respectively.
• While various design-related failings rank highly in all regions, in Europe incorrect design is the prime culprit for distress on almost a third of projects (32.7 per cent).
• Projects in the Middle East faced the worst delays (83.1 per cent of schedule duration). Even at their least severe, overruns averaged almost a year in the Americas (prolonging schedules by 58.2 per cent, equivalent to 11.3 months).
• Contentious costs were lowest in Oceania, but still significant at over a quarter of capex on average (26.2 per cent).
Industries unevenly impacted
Sectorwise, buildings and transportation infrastructure projects faced claims for longer time extensions than other sectors, averaging 76.7 per cent and 70 per cent of planned duration, respectively. A serious concern for owners and the wider industry, the implications may be even more troubling for governments and state agencies promoting new infrastructure as a stimulus for economies emerging from the pandemic.
Delays tended to be least severe in the industrial and manufacturing markets, but sums in dispute were higher, proportionately. Claimed extensions of time would prolong schedules by 54.6 per cent (11 months on average). Contentious costs, averaging 54.8 per cent of capex were significantly higher than the all-sector average (35.1 per cent).
Toby Hunt, Partner, CRUX Sponsor, comments: "In 2022, we are still seeing a long Covid legacy of uncertainty, and that economic and logistical overhang has been compounded by the war in Ukraine, resurgent inflation, further supply shocks, and a slowdown in the global economic recovery. All pose significant challenges for major capital projects even though many of the world's construction markets remain buoyant and boast strong project pipelines.
"Amid acute skills shortages and these uncertainties, there are actions project teams can take to tackle the root causes of the most common claims and disputes. CRUX Insight shares world-class intelligence to help promoters, contractors and the wider industry navigate the complexities of major projects and avoid the unnecessary consequences in lost time and money."
* CRUX Interactive dashboard (https://www.hka.com/crux-interactive-dashboard/): The database of CRUX – HKA's integrated research programme – is searchable via an interactive dashboard, which can be used to gauge risks in various sectors and regions, benchmark causes, and help to identify areas for improvement. The dataset can also be analysed by sector, among various other parameters.