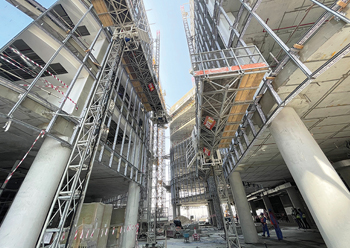 Byrne anticipates an increase in demand for mast-climbing work platforms.
The GCC's construction market is now entering a phase of buoyancy after a slow period in the aftermath of the pandemic and this is having a positive impact on Byrne Equipment Rental's hoist and access operations, says a senior official of one of the largest plant and equipment rental companies in the Middle East.
"Old projects that were stalled have been given the green light, generating a huge demand for hoists in particular. The return of many long-term projects has also generated demand for mast climbers, predominantly for cladding and fabrication works in the construction and oil and gas industries, and the momentum has started shifting with an increased number going out for hire," Ranjit Kumar, the new Business Development Manager for Hoist & Mast Climbers at Byrne Equipment Rental, told Gulf Construction.
Among the several developments that Byrne is involved with is a unique project involving the application of a hoist at a height of 130 m for a 40-storey residential building. This hoist has been on hire since February 2022 and will continue in operation at the site until the end of next year, he pointed out.
Byrne is also engaged on many other projects that are under way as well as others in the pipeline across the GCC. Some of these projects are located in Abu Dhabi, where the emirate's Economic Vision 2030 has kick-started several developments in line with its plans for more leisure, entertainment and tourism facilities.
"The market in Saudi Arabia is also extremely encouraging for us, with the Saudi Vision 2030 generating numerous projects in the areas of Neom, Jeddah, Riyadh and the Red Sea for new-builds and the corresponding finishing works of cladding and profiles," Kumar said.
Byrne Equipment Rental has been focusing on diversifying its customer base, widening its reach from predominantly the construction sector to other industries including oil and gas and the industrial space. This has led to a significant increase in the demand and hire of its hoists and the company currently has numerous units active across a vast range of sites and projects, from a large barge project in the UAE to various residential projects and commercial applications, he added.
Commenting on Byrne's USPs, Kumar said: "We differentiate ourselves through our service, attention to detail and quality of equipment. Our products are high quality – from renowned manufacturer Alimak – and our fleet is new compared to other equipment in the market; it is in optimum condition and consistently well maintained.
"Our machines are advanced in design with approved safety features, ensuring they are reliable for the customer and thus reducing the risk of breakdowns and have low maintenance requirements. In addition, all of our installations are backed up by technical verification from our side and we work hand in hand with the contractor at every stage to ensure optimum safety and professional service and conditions. We provide 24/7 on-site support and monitoring of our machines."
Turning to some of the trends in the access equipment market, Kumar said there is growing demand for enhanced efficiency and productivity and increased awareness of health and safety on sites.
"As the ecosystem of construction sites moves and adapts, players need to move quickly or be left behind. We are expecting to see an increase in demand for mast-climbing work platforms (MCWP) and transport platforms which are a safe and efficient proven alternative to suspended scaffold, fixed scaffold, lifts and other traditional access methods," he indicated.
"Technology is also having an impact on the market and the global electric hoist market has witnessed high growth over the past years. Intelligence is a vital element of current and future product design in the industry with diagnostic system features that optimise utilisation for different applications and automate safety, predictive maintenance that improves uptime, and calibration measures that improve ease of use.
"The digitalisation of traditional equipment is something that is being embraced, and it is moving quickly in many markets globally along with sustainability. This applies not only to the end products being constructed, but the whole supply chain and its contribution to its impact on society and the environment," he concluded.