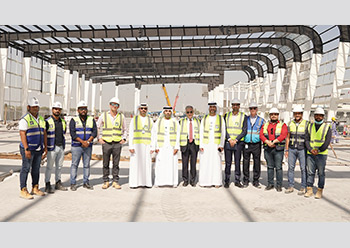 Al Dhaheri at the construction site along with Adnec officials.
Abu Dhabi National Exhibitions Company (Adnec) has announced that 40 per cent of the construction work for the biggest exhibition hall in the Middle East and North Africa has been completed.
A first of its kind in the region, the hall is being built on a 10,000-sq-m area in the Marina area opposite the Abu Dhabi National Exhibition Centre overlooking the waterfront, with work proceeding at a fast pace, two weeks ahead of the set timeframe.
Adnec Managing Director and Group CEO Humaid Matar Al Dhaheri visited the site and inspected the progress being made on the hall that is scheduled to open in October.
This is part of the expansion plans for the centre to bolster Adnec's competitiveness and ability to organise major global events in all fields, thereby consolidating its leading position in the business tourism sector on the regional and global levels.
Director of Engineering Services Ahmed Al Mansoori said: "The new hall befits the high standing of Adnec in the tourism and business sectors. It is built using a solid metal frame covered in aluminium plates to provide flexibility to host events of various scales and types in all fields. Vehicles and persons can enter it via gates on all sides through roads surrounding it from all directions, which will help provide an exceptional experience for all participants and visitors."