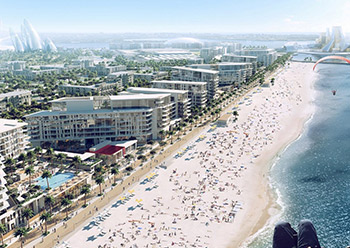 Saadiyat Island ... the plot has been earmarked for a mixed-use project and will be home to over 15,000 people.
Leading UAE developer Aldar Properties has announced that it has acquired 6.2 million sq m of prime land located on the east side of Saadiyat Island valued at AED3.68 billion ($1.01 billion).
The plot has been earmarked for a mixed-use project and will be home to over 15,000 people.
The integrated community will include 2,700 units, most of which are villas, with an estimated gross development value of AED15 billion.
The acquisition significantly bolsters Aldar's land bank on the island and enhances the company's ability to deliver further world-class communities in key locations across Abu Dhabi.
On the acquisition, Group CEO Talal Al Dhiyebi said: "This is an incredibly exciting acquisition for Aldar as it will allow us to develop the most strategically located and desirable land available in Abu Dhabi. The transaction is also a milestone in the development of Saadiyat Island as it will lead the island towards becoming a fully developed destination with an even wider choice of villa living in a unique setting."
Meanwhile, Aldar Properties has announced the launch of the second phase of its popular Alreeman II development, Fay Alreeman, an AED2-billion master-planned residential community in the Alshamkha area of Abu Dhabi.
The villas within the development's second phase are available for purchase exclusively by UAE nationals.
Following strong demand for infrastructure-enabled land plots in Phase One, Fay Alreeman will see the launch of 554 villas available in three- to six-bedroom layouts.
Handovers are expected to commence in the final quarter of 2025.
All villas within Fay Alreeman will be available in a choice of three elevations – Mediterranean, Modern Arabic, and Contemporary. Internally, they will have a light or dark colour scheme. Fay Alreeman properties will offer spacious floorplans with large, closed kitchens, family rooms, and majlis spaces, among other features, it stated.
With the entire Alreeman II development spread across an area of 2.4 million sq m, residents will benefit from a wide range of amenities that will cater to their specific needs and interests; a school, retail offerings, parks, mosques, and running and cycling tracks are all available in the community, it added.