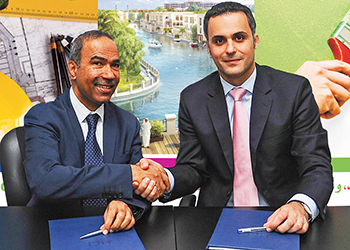 Al A'Ali seals the deal with Jubran Abdulrahman, managing director of Hilal Conferences and Exhibitions (HCE), the event's organiser.
Haji Hassan has signed up as the strategic sponsor for the Gulf Construction Expo for the third consecutive year.
The Haji Hassan Group of Companies will be presenting its diverse portfolio at the exhibition. The group's companies represented will include the Arabian Parts Company, Bahrain Asphalt, Arabian Chemical Industries (Isola), Haji Hasan Ready-mix, Bahrain Pipes, Bahrain Precast Concrete, Bahrain Blocks and Haji Hassan Reinforcement.
Group chairman Adel Hassan Al A'Ali says: "The Gulf Construction Expo is a leading event for the building and construction sector. It is our showcase to display the products and services the group can deliver across the whole infrastructure and construction sectors."
Haji Hassan Group is headquartered in Bahrain with joint venture partnerships across the GCC. It manufactures building materials, precast concrete, ready-mix concrete, plastic and sewage pipes, construction chemicals, concrete blocks, steel reinforcement, rubber and mechanical engineering spare parts.
"The group's ethos has been set down by our beloved founder, the late Haji Hassan, to deliver innovative solutions, quality products and services, with honesty and integrity in all dealings. These values are the core of our vision and success today," Al A'Ali adds.
The group's high-profile projects in Bahrain include the Shaikh Isa Library, Sitra Causeway, Durrat Al Bahrain, North Manama Causeway, the Bahrain International Circuit, The Ritz-Carlton Hotel, and the Sofitel Bahrain resort.