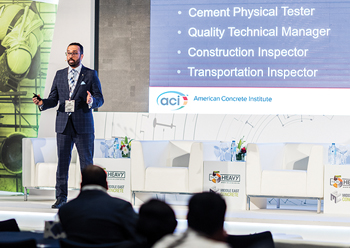 ACI is a regular participant at The Big 5 and the concurrent events.
American Concrete Institute, a leading global authority that offers certification, education and training and guidelines for stronger building codes, continues to host a series of workshops and seminars in the region to boost awareness of its role in forging a concrete community that contributes to a safer, more sustainable built environment.
The ACI's Middle East Regional Office – based in Dubai, UAE – works with ACI chapters and other entities to organise events that introduce attendees to ACI and its standards. They host workshops and seminars and facilitate ACI's participation in regional trade events.
Among the forthcoming events, first up is the ACI Concrete Conference on Codes, Standards and Best Practices (ACI-MEC 2023), which will be held at the Crowne Plaza Hotel, Riyadh, Saudi Arabia, on November 28 and 29. This will be the fourth edition of the ACI Middle East regional conference on codes, standards, and best practices, which will be staged in partnership with the Saudi Building Code National Committee.
On the heels of this event, the ACI will participate in Big 5 Global which will be held from December 4 to 7 at the Dubai World Trade Centre. At this show, which is the region's largest and most influential event for the construction industry, ACI will present code updates. The Big 5 includes specialised events for niche audiences, including Middle East Concrete.
The institute has recently concluded its free virtual conference, ACI 24 Hours of Concrete Knowledge global conference, during which its Iraq, UAE, and Egypt chapters were among those who presented the latest research, trends and studies on the concrete sector.
Earlier, in March this year, its UAE Chapter organised the two-day ACI Concrete Conference on Innovation in Dubai, which covered both innovation in the concrete industry and the built environment.
ACI's primary role is to promote the development, dissemination and adoption of its consensus-based standards, technical resources, and certification programmes. Its Middle East Regional Office – opened in Dubai in 2019 – and local ACI chapters throughout the region work with organisations and governing bodies to not only provide education and training, but also encourage adoption of ACI standards for high-quality concrete design and construction in building codes.
Located at the Dubai World Trade Centre, the ACI Middle East Regional Office is headed by Ahmad Mhanna. Under his leadership, the office focuses on increasing access to ACI's consensus-based technical and educational resources and increasing the awareness of regional concrete design and construction practices.
Among the services and benefits the ACI provides to those working in the concrete industry and construction at large are:
• Certification programmes: ACI chapters and their industry partners sponsor certification programmes to help individuals improve their knowledge and skills so they can advance their careers. For employers, having ACI-certified personnel is a great value proposition that can help win more work, said the institute, adding that project owners can award jobs with confidence, knowing the work will be performed to the highest quality. Specifiers and others are assured that concrete testing, placing, handling, and inspecting are performed correctly and in compliance with codes and standards, it added.
• Chapters and membership benefits: ACI and its local chapters offer members opportunities to gain technical knowledge and develop leadership skills while expanding their personal and professional networks. Chapters can be found in Iraq, Kurdistan, Kuwait, Lebanon, Oman, Qatar, Saudi Arabia's Eastern Province, the UAE, and Egypt. Members include architects, engineers, consultants, contractors, educators, material suppliers, equipment suppliers, owners, and students.
• Student chapters and scholarships: ACI student chapters consist of a faculty advisor and elected student officers that serve various roles in the chapter. There are currently 24 student chapters in the Middle East region and four in North Africa.
The ACI Foundation established the Middle East North Africa Fellowship in 2018 as part of ACI's efforts to increase knowledge-sharing in the region. No internship is required.
"The future of our industry lies in greater awareness of the use of concrete effectively and meeting the demands of our changing world," a spokesperson for ACI stated.