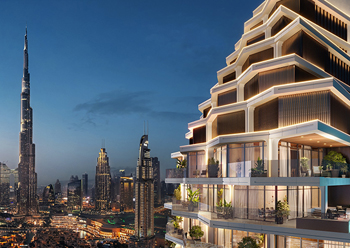 W Residences project in Dubai Downtown area ... construction work set to start.
Ultra-luxurious supercar maker Pagani Automobili's first branded residences worldwide are expected to be handed over to their owners by the end of this year at the visually striking DaVinci Tower in Dubai.
Strategically located in Downtown Dubai adjacent to the water canal, the two-tower building will offer a total of 84 apartments, a penthouse and two townhouses as well as three retail outlets. The 20-storey building includes three basement levels and a ground level enfolding a total built-up area of 226,552 sq ft.
"For the first time in the world, Pagani's essence will pervade a living space: DaVinci Tower is a residential building in downtown Dubai with interiors designed by Pagani," Bilal Matarneh, CEO Development, Construction, DarGlobal, tells Gulf Construction.
DarGlobal, the developer of the project, is the international real estate arm of Saudi-based Dar Al Arkan.
"The concept behind this project is to create a unique and luxurious living experience unmatched anywhere else in the world, inspired by the mastermind carmaker, Horacio Pagani. These magnificent residences set new standards for living. The expansive two- to four-bedroom marble homes are designed with private outdoor spaces and open flowing light-filled interiors, with panoramic views of the canal and Downtown Dubai.
"Pagani's signature style is woven into all corners of the apartments, and every room will have a distinct character. The collaboration is a testament to DarGlobal's commitment to bringing the best-in-class luxury properties to its customer," he adds.
All public and private areas are co-branded by Pagani and incorporate high-quality finishing. There is continuity across interior and exterior spaces, with the same brand essence, starting with the car park design to the main entrance lobby, corridors and lift lobbies, as well as the amenities such as the swimming pool, changing rooms and gym.
"From the kitchen, with its Italian design and welcoming feel, to the car simulator room, exemplifying a perfect man cave with its leather padded walls and cockpit-inspired shape, these one-of-a-kind apartments will set a new standard for contemporary living," Matarneh states.
A complete building automation system has been deployed to cater to the most sophisticated demands of its customers, he adds.
Construction of the two-tower complex began in 2017 and was completed last year. The architectural consultant was QHC Architects & Engineers and the contractor was Ali & Sons Contracting.
Other consultants on the project are BHNS Engineering Consultants, Hirsch Bedner Associates (HBA), responsible for the interior design, and IBA Consultants.
Commenting on the status of the project, he says: "The design development for the interiors has been completed, and we are at the final stage of appointing the fit-out contractor."
In October last year, DarGlobal and Pagani Automobili unveiled the first apartment at the DaVinci Tower. The apartment, a residential masterpiece, gave prospective buyers a glimpse into the world's first-ever Pagani-inspired exclusive space as well as the uniqueness of the DaVinci Tower's apartment portfolio, says the developer.
The three-bedroom apartment redefines the dimensions of space and also demonstrated a unique confluence of Italian and contemporary design excellence that is slated to characterise the entire inventory, epitomising Pagani's craftmanship.
Reflecting Pagani's creative philosophy that combines form and function to create unique, handmade objects, all apartments will be adorned with tailored pieces from the Pagani-branded furniture line. This is combined with a blend of high-end marble and wooden flooring dotted with chevron patterns, doors bearing the Pagani emblem, and custom lighting.
So what benefits do branded projects bring to the customers? Matarneh explains: "Existing brand awareness can increase the profile of a branded residence scheme and attract more interested buyers to a project. Co-branded properties are lucrative investment opportunities, especially for affluent customers owning multiple homes in different regions. The analysis of a Savills co-branded properties report shows that the average global premium for branded residences over a comparable non-branded product stands at 30 per cent. Global cities, with tighter competition at the top-end of the market from other luxury, non-branded products, have the lowest premium for the location classifications at 24 per cent."
Matarneh says DarGlobal has received a positive response and seen high demand for the project, with interested buyers from multiple geographies.
"The property's location, design and size options are in high demand among target customers, specifically larger-spaced apartments," he adds.
DarGlobal is fast-growing its portfolio across the world with developments in the UAE, Qatar, Oman, Bosnia, the UK, and Spain. Some of its other prominent projects include Urban Oasis tower in collaboration with Missoni, Les Vagues residences by Elie Saab, and the W Residences Dubai – Downtown.
Meanwhile, DarGlobal is set to launch construction works on W Residences project in Dubai Downtown area, following the award of a AED273-million ($74.3 million) main works contract to China State Construction Engineering Corporation-Middle East (CSCEC ME).
The Residences – a standalone residential project under global lifestyle brand W Hotels - boasts views of Burj Khalifa and Dubai Fountain, and is minutes away from Dubai airport, Dubai International Financial Centre (DIFC) and Dubai Mall. It is due for completion in December 2025.
On the contract award, CEO Ziad El Chaar said: "We are committed to delivering all our projects on time, matching the promised specifications and amenities. W Residences is already sold-out and anticipated to mark the first standalone residences in the world under the iconic lifestyle W Hotels brand."