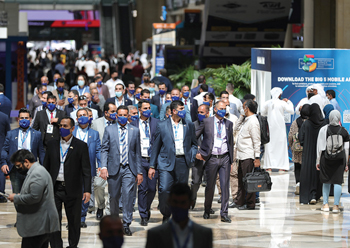 dmg events expects more than 55,000 visitors from over 152 countries to attend The Big 5 show this year.
In line with the global buzz around the environment and climate change which was brought to a peak last month during the COP27 conference in Sharm El Sheikh, Egypt, The Big 5 show in Dubai is set to launch its own initiative to discuss the construction sector's impact on the environment when the premier event opens this month.
Global and regional sustainability leaders, innovators, disruptors, and ESG (environmental, social and governance) advisors are expected to attend the inaugural Global Construction Impact Summit at Dubai World Trade Centre (DWTC) on the third day of the show (December 7), to explore how the industry can collaborate to meet the Middle East's ambitious net-zero targets by 2050.
The Big 5, the largest construction industry event in the region, will be held at the DWTC from December 5 to 8. The expo has attracted more than 2,000 exhibitors from 60 countries and 20 national pavilions, who are looking to tap the lucrative opportunities offered by the Middle East and Africa (MEA) region which is riding high on $6.5 trillion projects – $3.5 trillion under way and a further $2.9 trillion in the pipeline, according to the organiser dmg events.
The organiser expects more than 55,000 visitors from over 152 countries to attend The Big 5, which will feature a series of events to complement the showcase of the latest construction products and services displayed by these exhibitors.
Among the most-influential industry events, The Big 5 is now a one-stop shop for the global construction community to meet face to face, says dmg events. It covers the full construction cycle across dedicated sectors and six specialised events – The Big 5 Heavy, Middle East Concrete, HVAC R Expo, Middle East Stone, the Urban Design & Landscape Expo, and FM Expo – enabling industry professionals to source solutions for every stage of construction.
Middle East Concrete and The Big 5 Heavy will bring together the concrete supply chain and heavy machinery players; Middle East Stone will cater to the regional stone industry; the Urban Design & Landscape Expo will focus on new ground-breaking landscape, infrastructure, and urban development solutions; FM Expo will cater to facilities management professionals offering new technologies to support them in safely maintaining their assets; and finally the HVAC R Expo focuses on providing healthy air-conditioning solutions.
Highlighting the importance of the inaugural Global Construction Impact Summit, Ben Greenish, Senior Vice-President of Construction at dmg events, says: "According to the recent World Green Building Council's (WGBC) Beyond Buildings Report, the macro urban built environment is responsible for 75 per cent of annual global greenhouse gas emissions, with buildings alone accounting for 37 per cent. The industry must demonstrate a willingness to make changes if we are to meet the WGBC targets for the sector which include achieving at least 40 per cent less embodied carbon emissions by 2030 and achieving 100 per cent net zero emissions by 2050. By driving the shift from high-emission products, for example, to near-zero emission products, the industry can take a significant step forward."
Sustainability
Greenish adds that the sustainability spotlight on the Middle East and Africa is shining brighter than ever thanks to the two editions of COP being held in the region – the COP27, which has just concluded in Egypt, and COP28 in the UAE next year. "It is critical that the construction sector does its part to help both nations realise their commitments on net-zero ambitions. The Global Construction Impact Summit will emerge as a green pathway for the regional industry, which has the chance to demonstrate international leadership by highlighting commitment to national net-zero visions," he says.
Discussion topics throughout the day will include how to advance net zero throughout the industry, ESG leadership in construction, the acceleration of change by scaling up solutions and collaboration, achieving zero waste through substitute materials use, and ESG metrics reporting – all focused on applications for the construction industry.
Bex Porter, Built Environment Lead, UN High Level Climate Champions team, says: "Having the opportunity to bring the Race to Zero campaign to the upcoming Global Construction Impact Summit is both exciting and timely. Our campaign, backed by the United Nations, is in full swing, but lacking representation from the UAE. We need to continue to drive action and ambition in the region as we look ahead to COP 28 in Dubai.
"We are rallying non-state actors – including companies, cities, regions, financial and educational institutions – to take rigorous and immediate action to halve global emissions by 2030 and deliver a healthier, fairer zero-carbon world in time. In joining the Race to Zero, non-state actors can drive the ambition loop to show policymakers that the sector is stepping up to the needed transformation. On behalf of the team, we look forward to updating the industry on how we are progressing through our plan and hope to find partners to help us deliver our goals."
Speakers, delegates, and partners committed to integrating sustainability and net zero into their core businesses will attend and look for collaboration on how the construction ecosystem will support the region's ambitious net-zero targets.
Campbell Gray, CEO, Middle East and Africa at Atkins, a member of the SNC-Lavalin Group and the headline sponsors of the summit, says: "As one of the world's leading professional services and project management organisations, we've set Engineering Net Zero as our north star and have been working closely with governments and the private sector to help them meet their net zero targets, manage their climate risk, and build climate resiliency into their portfolios.
"This year, we have also published our Engineering Net Zero in the GCC report that outlines key challenges, opportunities, and recommendations to decarbonise the built environment, energy, and transport sectors. The Global Construction Impact Summit provides a strategic platform to connect with key stakeholders and be a part of thought leadership industry discussions that will help the region achieve its low-carbon future. We're also excited to see what discussions happen around both COP27 and COP28, as any new insights will help us deliver informed strategies to support our clients on their net zero targets that will benefit the UAE and the broader region."
Also sponsored by France-based Lafarge, the Global Construction Impact Summit will hear from speakers such as Sarah El Battouty, Chairman Founder of ECOnsult and Global Ambassador, UNFCCC High Level Climate Champions; Matthew Tribe, Managing Director, Planning, Design, and Engineering, Middle East; Majd Fayyad, DSM Strategy and Policy Lead, Supreme Council of Energy; Farah Naz, Sustainability & Innovation Lead, Aecom and Chair, CIBSE UAE; and Ivano Iannelli, Board of Directors, ESG Foundation.
Meanwhile, dmg events has also added a new 'Carbon Net-Zero Initiative of the Year category to The Big 5 Construction Impact Awards, which champion net zero initiatives and recognise sustainable development and technological and digital achievements in the construction industry. The finalists include 'Aedas Project: Enoc Future Mobility Station – Dubai Expo 2020'; 'AESG Project: AESG championing carbon reduction across the built industry'; 'Gensler Project: Gensler Cities Climate Challenge (GC3)' and 'Millenium Project: Mindca Green Homes'.
This year, 17 awards judged by an independent and international panel of experts will be presented at a ceremony taking place at Dubai World Trade Centre on December 5. Other 'of the year' awards categories include Sustainable Construction Organization, Sustainability Leader, Sustainability Champion, Sustainable Construction Project, and Sustainable Initiative.
Among other events lined up alongside The Big 5 include the debut Everything Architecture – exclusively created for architects, designers, specifiers, and property developers – which will consist of innovative and inspiring materials, services and products that are transforming the world's architectural and design sectors.
Meanwhile, returning for this year's event is The Big 5 Global Construction Leaders' Summit, which will feature key industry stakeholders and disruptors from outside the sector to discuss new ways forward with a busy day filled with knowledge-sharing to future-proof the industry.
The show will also host Digital Construction World with Start-up City, which will see technology disruptors from nine nations demonstrate solutions in front of construction stakeholders and decision-makers.
These events will be supported by a collection of CPD-certified talks and summits, providing attendees with insights on the latest market trends and actionable best practices.