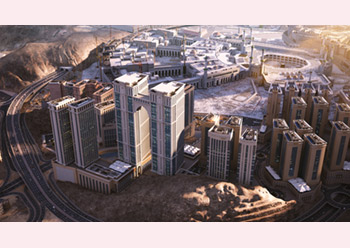 Jabal Omar Development .... being built in several phases.
Saudi-based Jabal Omar Development Company (JODC) has announced that work is moving at a steady pace at its mega master development in Makkah with Phases Two and Three targeted for completion by the year-end and Phase Four by Q4 2024.
The three phases, once complete, will comprise a total of 15 towers, including four- and five-star hotels with 5,000 keys that will be operated by internationally renowned hotel operators, including Jumeirah International Hotel Group, Archipelago International (The Alana Makkah and The Royal Alana Makkah), H Hotels & Resorts (H Hotel) and Emaar Hospitality (The Address Hotel).
With a land area of over 235,000 sq m, the Jabal Omar master project is being implemented in several phases. On completion, it will have a built-up area of over 2.5 million sq m with a total of 46 towers which include hospitality, commercial and residential developments.
Phase One was fully completed in Q1 2017 with a total land area and built-up area of 27,000 sq m and over 523,000 sq m respectively.
In order to ensure successful, timely, on-budget and safe completion of the various phases, JODC has signed strategic partnership agreements with several key construction and project management companies, including Fluor International, which will act as the project management consultant for the project.
The Saudi developer said it continues to mobilise and ramp up construction work on the second and third phases, which are now being completed. Construction work on Phase Four has resumed recently.
Saad bin Aiban, the Chief Development & Projects Manager, said: "We have partnered with renowned experts to complete all project's existing phases and the infrastructure as per the revised target launch, which is testament to the entire team at JODC and an achievement we are proud of, especially given the delays in the construction work as a result of the global pandemic, and other challenges that the kingdom's real estate sector faced."
"From now on, we will work to harness all required resources - from financial to human capital, to ensure timely and on-budget completion of the project while ensuring we continue to adhere to the highest quality and safety standards that JODC is known for."
Bin Aiban pointed out that JODC's focus was firmly on developing Phases two, Three and Four, which have completion rates of 88, 93, and 63 per cent respectively.
"Each of the phases are mixed-use developments comprising hospitality, commercial, luxury residential units, and parking lots, with a combined land area of over 68,000 sq m," he noted.