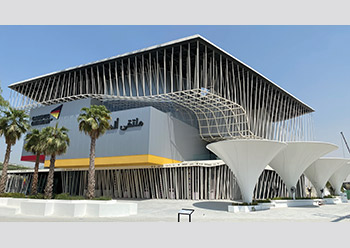 Campus Germany, the German pavilion at Expo Dubai.
Over the last decade, the attainment of green building certifications (GBCs) has become an increasing trend in the Middle East. These certifications are based on the Sustainable Development Goals (SDG) of the United Nations, which are more than just ecological goals, requiring buildings to score points in three spheres: Society, Economy and Ecology. Programmes such as the Building Research Establishment Environment Assessment Method (Breeam) and Leadership in Energy and Environmental Design (LEED) have set a high bar in building performance.
Achieving the highest rating delivers benefits on both financial and environmental fronts: increased rental value, building occupancy by tenants willing to commit to a premium price, lower vacancy rate, and real estate social licence to operate. For these reasons, in order to continue to create value and accelerate the transformation of a region which is home to 400 million people, solutions that ensure that buildings guarantee a high quality of life to people yet minimise environmental impact and maximise economic benefits have become imperative.
The Netherlands-based eyrise, a subsidiary of the market leader for liquid crystals Merck KGaA, has developed dynamic and switchable glass for building envelopes that contributes to several categories in each GBC, therefore increasing the probability of getting a high score overall.
The material behind switchable glazing is the same liquid crystal in a TV, a computer or a mobile phone screen. A mixture of liquid crystals and dyes is put between two glass panes. Without voltage, the molecules block most of the light, and the glass is dark. When voltage is applied, the liquid crystals instantly change their orientation, and more light comes in. By being able to control the amount of light and heat that is absorbed or dispersed, the need for air-conditioning and lighting can be reduced by 10 to 20 per cent, depending on the exposure of the building and the geographical climate conditions.
In the Middle East, for instance, where solar protection is not a luxury, liquid crystal dynamic glazing can be a crucial material to reduce the air-conditioning load but still have a comfortable lighting level and temperature environment for occupants. A recent use case was shown at the Expo 2020 Dubai. In line with the Expo's central theme, Campus Germany – the German pavilion – showcased the most recent advancements in scientific, technological, economic and social progress. The pavilion was built according to sustainable principles and enveloped with liquid crystal dynamic glass that would help the building cope more efficiently with different weather conditions during the six-month-long Expo.
With its strong focus on sustainability, eyrise was the partner of choice to guarantee the best natural light conditions and temperature control. The ecological advantage of using liquid crystal dynamic glazing had an impact on energy savings. In total, 61 panels of eyrise liquid crystal glass were installed, of which 28 were fixed glass panels, four standard doors, and 29 folding doors. These 1.5-m-wide glass elements were also able to rotate and open, allowing natural ventilation on cooler days.
Dynamic façades powered by liquid crystal technology are, therefore, able to satisfy two needs harmoniously. On the one hand, they help achieve a building's energy efficiency ambition; on the other, they create a comfortable environment that enhances the users' health and wellbeing. Social needs are indeed as relevant when considering materials and processes for any construction project, as made clear by GBC requirements: a building's performance must consider societal factors besides economic and environmental.
Liquid crystal dynamic glass technology proves to have a direct impact on these factors. The glazing supports occupants' natural body clock rhythms throughout the day, offering a more positive effect on health, wellbeing and, for office spaces, on productivity as well. By maintaining constant thermal and solar control, this technology reduces PPD (Predicted Percentage Dissatisfaction) from 21 per cent for normal double glazing to six per cent for solar shading glass. Differently said, people working in an environment with an ideal balance between light and thermal regulation are less likely to get sick. Research by Boston Consulting Group suggests that a reduction in absenteeism equates to an extra 4.4 days of productivity gained. Translated into financial results, it means a $860 million saving on health costs and a $82.5 million saving on energy throughout a year.
As the construction industry addresses the challenges in ensuring sustainability, GBCs capture this value as a profitable investment for real estate. For instance, Swiss Prime Site Immobilien, the largest real estate group in Switzerland, has chosen eyrise for the entire façade of a renovation project in Zurich that will be rented to Google Switzerland for CHF9.9 million ($10.16 million) a year. In the light of these considerations, technologies such as eyrise can be crucial drivers in the financial performance throughout a building's life cycle, from improving embodied and operational carbon footprint through reduced CO2 emissions, to creating a higher value in case of renting or reselling the property.
* Celine Glipa is the CEO of eyrise. She holds a double doctorate in polymers and electrochemistry and has been involved with the development of liquid crystal glass from the laboratory to the boardroom.