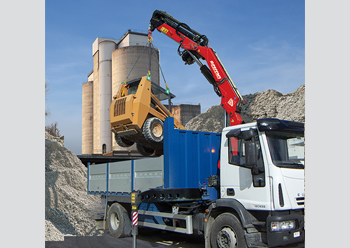 The 6238B has a lifting capacity of 19.3tm.
F.lli Ferrari, an Italian manufacturer of truck-mounted cranes, has boosted its product portfolio with the launch of the Flli Ferrari 6000 Series, which includes three new models of mid-size hydraulic cranes of 10tm, 15tm, 20tm class lifting capacity.
The first of the models unveiled are the 6108B with 9.6-tonnes-metre (tm) lifting capacity, the 6148B with 13.9tm lifting capacity and the 6238B with 19.3tm lifting capacity. Across the range, the cranes have between one and six extensions, with the jib version available for models 6148B and 6238B.
The latest 6000 Series has been developed to offer just what really matters for articulated cranes in no-CE markets, according to Giuseppe Bevacqua, Global Product Manager Cranes.
"The manually-operated crane is essential when you are looking for optimal and easy-to-use equipment. Moreover, their high reliability is guaranteed by high quality standards of both technical and mechanical characteristics," he says.
Citing some of the innovations in the 6000 Series, Bevacqua says these include an improved structure, pre-assembled paintwork, new oil tanks, new outrigger controls, load limiting devices and a new user-friendly control station which improves comfort during operation.
A radio-controlled version (HC-D4 electro-hydraulic with Hetronic or Scanreco) is also available.
The cranes support a range of accessories including a winch, additional hydraulic functions, oil cooler, working lights and an acoustic/visual alarm device, which improve driver attention and can save time and increase productivity.
"The restyling of these classic models, under both aesthetical and functional aspects, contributes to a dynamic approach to serve the most demanding markets and operators while also increasing the functionality and performance of Flli Ferrari No CE cranes," explaines Bevacqua.
All F.lli Ferrari cranes are ISO 9001:2008 quality management and ISO 14001:2004 environmental management certified.