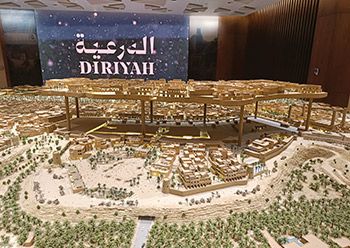 A massive model of the Diriyah masterplan. The raised section shows the extent of the super-basement at Diriyah Square.
A $50.6-billion programme to restore, preserve and celebrate Diriyah as the beating cultural heart of Saudi Arabia is gearing up to launch two key anchoring components this year, making it the first giga-project in the kingdom to open assets to the public.
These assets include the historic At-Turaif district – a UNESCO World Heritage Site, which has been restored to its former glory and enhanced with a collection of museums – and Bujairi Terrace, a dining destination built in a traditional Najdi architectural style that hosts a collection of the world's premium food and beverage (F&B) brands.
Diriyah – the ancestral home of the House of Al Saud and birthplace of modern Saudi Arabia, located some 15 minutes northwest of the centre of Riyadh – is poised to be an iconic destination in the kingdom, steeped in history that will take visitors back three centuries, thus offering a unique value proposition in the GCC for tourists to the region.
Diriyah Gate Development Authority (DGDA) is spearheading this ambitious programme which comprises Diriyah Gate, Wadi Safar, Wadi Hanifah and At-Turaif. It has been divided into two phases – Diriyah Gate One (DG1) and Diriyah Gate Two (DG2). DG1 is targeted for completion in 2025. Phase One is expected to include 38 hotels, a diverse collection of museums and cultural institutes, 223,000 sq m of lifestyle, retail and F&B units and 1,280-plus residential units.
Upon completion, Diriyah Gate will be one of the Middle East's leading mixed-use developments and tourist destinations, and an authentic global centre for culture and heritage. The development will feature an authentic urban environment designed in the architectural style of 300 years ago, that will be a place to gather, shop, dine, live, learn, and work in a pedestrian-friendly setting.
Bujairi Terrace
Bujairi Terrace is expected to open with a total of 16 F&B outlets – including four Michelin-starred restaurants – a number that will eventually rise to more than 20. Many of these will be making their debut in the kingdom and the region. The dining destination will also include two Saudi concepts – Takya and Maiz – which will help complete the authentic Saudi experience for international tourists.
Architecturally, all these low-rise structures are built with a Najdi mudbrick-style look and feel in keeping with the heritage of Diriyah but with an air-conditioned indoor environment that has been fashioned in modern décor that complements the exterior. The dining hub will include a mix of casual to high-end dining facilities, as well as cafes and a food hall with different types of concepts. The outdoor area will include several pop-ups and an outdoor cinema at a later stage.
"This is historically a place where Diriyah existed, so we want to make sure that we preserve that heritage, look and feel. However, inside all the restaurants have their own creative style, their creative direction," said Firaas Salah, Senior Manager, Retail Marketing, DGDA.
The majestic setting overlooks At-Turaif and Wadi Hanifah – an oasis around which the Diriyah of old initially took shape – and is accessed via three entry points, including a four-level basement car-park built of precast concrete which was completed in 11 months.
When Gulf Construction visited the site last month, the area was a hive of activity with snagging and fit-out works in progress.
"The Diriyah development is a really interesting project, because it's definitely going to change the construct of the capital city, Riyadh, where the population will surge up from 7.5 million to 15 million as envisaged in the 2030 Vision," said Kiran Haslam, Chief Marketing Officer.
"This is an area which is all about going out with the family in a pedestrian zone and having access to some great restaurants and great experiences, great programming entertainment as well as a tourist area overlooking the Wadi Hanifah. Being a pedestrian district, it will offer truly deeply meaningful and immersive experiences while on foot. Attracting over three million visitors every year, Diriyah will become the foremost historical, cultural, and lifestyle destination," he added.
Bulk Excavation
Elsewhere on the 7-sq-km Diriyah Phase One development (DG1), work is progressing at a rapid pace on major infrastructure packages awarded earlier this year. These include the project's largest contract to date, worth almost SR4 billion ($1.06 billion), to construct the cultural hub Diriyah Square's 'super-basement' car-park, and a SR1.3 billion contract for the construction of a network of road tunnels, ramps and a major bridge deck that will form the principal Diriyah Interchange on Riyadh's Western Ring Road.
Italy's WeBuild is the main contractor on the 'super-basement' car park project (Package 2), which will take the Diriyah Square substructure works to the deck, while Nesma & Partners is building the motorway substructure gyratory at the eastern portion of Diriyah Square and the Western Ring Road.
Also under way is the tunnelling work which was split into two packages: Package A, which is northern part of the tunnels, being carried out by SaudiCo under a SR31.5 billion contract; and Package B, which is the southern part, which has been awarded to a joint venture of El Seif and China State Construction Engineering under a SR1.7-billion deal.
"The super-basement car park will sit underneath the 'Jewel of the Kingdom' Diriyah Square which will host six hotels, apartments and 450 retail units. This is fourth largest super-basement car park in the world and it will accommodate 10,500 cars," Ian Robinson, Chief Delivery Officer of DGDA, told journalists during a tour of the massive site.
Excavation on Diriyah Square – which reached depths averaging 29 m – has recently been completed. Given the sensitivity of the site within Riyadh's urban fabric, blasting techniques could not be utilised to implement the excavation and tunnelling works and hence was carried out using man and machinery – with a workforce of 11,000 and 800 machines on site – and by closely monitoring vibrations and ensuring the safety of adjacent areas.
Some 40 per cent of the excavated materials is crushed and used on site as backfill while the rest is distributed across the Diriyah masterplan and other projects in Riyadh, such as the King Salman Park.
A total of 15 tower cranes currently punctuate the Bulk Excavation – as the vast excavated site where the super-basement car-park is taking shape is colloquially known – and this number is set to rise to 20 as the construction work reaches a peak. Around 7 million cu m of earth has already been excavated and work is currently in progress on the first level of the three-level basement.
"We have a team of 11,000 people on site, and this will rise to about 75,000 at the peak of construction on DG1. We have a safety record which is unprecedented," he adds.
In line with its sustainability focus as well as to facilitate logistics, there are two batching plants on site, while the third one is currently being erected.
The lift for the main access bridge has been completed and required the use of 1,000-tonne crane – one of only two such cranes in operation in Saudi Arabia. Two other smaller bridges have been erected.
According to Robinson, the next tenders to be floated include Packages Three to Seven, which involve the construction of hotels and apartments at Diriyah Square.
Providing details of the current status of the development, Mohamed Saad, Acting President at DevCo, a DGDA subsidiary, stated that a contractor is close to being appointed on the northern car park, while the southern car park is under design.
"We're working north to south, with all the infrastructure works awarded. We have also awarded a contract to Saudi Electricity Company (SEC) for DG1 worth around SR1.5 billion and are close to signing the deal with them for DG2. We have also got board approval on the detail masterplan for DG2," he added.
The substructure infrastructure will also provide for four metro stations – two in DG1 and two in DG2 – all underground, he added.
In addition, designs have been completed for the Ministry of Culture (MOC) headquarters in the northeast corner of the masterplan and work on the structure is expected to start this year.
Other key aspects of the masterplan are King Salman Square, a striking plaza which can accommodate up to 18,000 people; the House of Al Saud in the south, a flagship museum covering 43,000 sq m to 45,000 sq m, the concept designs of which have just been completed; the Grand Mosque which can accommodate more than 14,000 worshippers in its open plaza; Raffles-branded residential offerings and a historical 'Period Village'.
According to Saad, work is now set to start on the first residential development – Samhan North – which will offer 100 housing units.
Other big packages to be awarded shortly include the SR1.2-billion DG2 infrastructure work, which has been approved to move ahead, he stated.
All the work is being done while keeping a close eye on sustainability, Saad pointed out, adding DG1 received the pre-certification for LEED Platinum in July.
Citing some of the challenges of the project, he said: "We are doing a deep dive on the programme with Mace, which has revealed that because of the physical constraints of this site, we can fit only 70,000 workers per day. And to meet the programme, we need to fit 150,000!
"Between all the contractors, we will soon reach 12,000 per day; this needs to ramp up very quickly."
To cope with this challenge, DGDA is looking at offsite construction techniques and has already acquired an area of 1 million sq m off site, where some 130 million bricks are being produced to be supplied to contractors.
Among other challenges, the project is facing the pressure of inflation. "The market is very dynamic and with all closures coming in at the same time, the supply chain is not able to cope. Also, big contractors that have the capabilities to build projects of this size and complexity are all stretched," he added.
To facilitate work on the hotels, Saad stated that DGDA is considering tendering up to eight hotels in one package.
Hospitality
Phase One will include 38 luxury and uber-luxury hotels offering close to 2,300 luxury hotel rooms. Having already signed up with 14 hotel operators earlier this year – including renowned names such as Armani, Four Seasons, Rosewood and Six Senses – the DGDA is poised to announce two more operators imminently, while negotiations are on with 17 others, according to Imran Changezi, Hospitality Director, DGDA.
The names of these brands will be made public later this year, he revealed.
Most of the 16 hotels that have been signed up are boutique, fashion or the ultra-luxury brands with a limited number of keys – around eight of them will have only up to 100 keys. The largest hotel will be operated by Rosewood and will have 250 keys, he said.
According to Changezi, as per HRH Prince Mohammed bin Salman guidelines, the architectural vision was to follow Najdi design principles. So, the DGDA launched design competitions in 2020 for several hotels in DG1 as per these guidelines.
"It was a very successful process. We had a competition involving more than 25 of the who's who in the architectural world and the results were presented to His Royal Highness, who personally looked into every single entry and selected for every asset," he stated.
While this sets the tone for the architectural design, interior design is being developed with the brand in line with its standards and while the brands have creative freedom in interior design, the DGDA ensures that it is in line with the masterplan. "So, it cannot be a Najdi to the architectural outside, and a funky glass look inside," Changezi added.
The first hotel is scheduled to open by the end of next year.
"This will be the Bab Samhan, a Luxury Collection Hotel' (previously known as Samhan Heritage hotel) operated by the Luxury Collection by Marriott in the Samhan district, which is currently under construction," he stated.
Apart from this hotel, most of the other hospitality properties have gone past the stage of schematic design. "Once you have that schematic, you can start looking at the construction contracts while working on the detail design. Hopefully within the course of next year, we will complete a chunk of schematic designs. So, we can start looking at construction documents and appointments from 2023-24 onwards," he added.
Following the completion of excavation of the massive site in mid-2022, the stage is now set to see the rise of the substructure works that will breathe new life into this 'ancient world', reviving old Diriyah, anchoring the kingdom on its identity and on its soul, and blending the old with the new in concentric circles – starting from DG1 which is racing for completion in 2025 with its offering of hotels, homes, mosques, museums, offices, restaurants and parks and plazas.