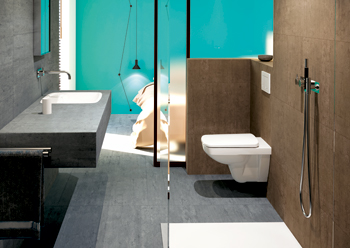 Hotel bathrooms should have a timeless design and modern sanitary technology.
Hoteliers go to great lengths to make their guests happy – and they know what holidaymakers and business travellers want. Both of these customer groups attach great importance to the hotel being furnished and equipped to a high quality standard, having a cosy ambience and providing peace and relaxation in a clean room.
Hoteliers can gain a decisive advantage over the competition from a hygiene perspective by having a modern equipped bathroom. This is because a timelessly attractive design, modern sanitary technology and an easy-to-clean and functional interior all enhance guests' well-being. When planned and implemented correctly, both the guest and the hotelier can benefit from a modern bathroom.
REVITALISATION THROUGH RENOVATION
Hotels have to keep pace with the times by regularly investing in the furniture and equipment. However, the word "renovation" is enough to set off alarm bells with many a hotelier as it must not lead to significant losses in revenue. Time is money, and the revenue per available room has to be kept as high as possible. Speed is, therefore, of paramount importance because construction noise, unoccupied rooms and dirt scare off guests.
On the flip side, even minor renovations can turn the bathroom into a paragon of hygiene and comfort and thus can help set the hotel apart from the competition. For example, the existing standard toilets can be replaced by Swiss sanitary solutions provider Geberit's AquaClean shower toilets – a solution that improves hygiene and creates added value for the customer.
If the bathrooms are still equipped with exposed cisterns, these can be replaced by the Geberit Monolith sanitary modules which provide many advantages. In addition to concealing unsightly cables and pipes, several Geberit Monolith models also feature odour extraction, ambient lighting and other additional functions. What's more – and crucially in the case of a hotel – they can also be installed in just a few hours and the existing connections can continue to be used.
SOUND INSULATION
Although hotel rooms should be a haven of peace and quiet, guests may be disturbed by noises from nearby trams, footsteps from neighbouring rooms and doors that close loudly. Hoteliers tackle such sources of noise by implementing sound insulation measures, such as laying carpets that insulate well against impact sound. However, they should be equally diligent in combating the sound of flushing toilets and water draining from the shower in adjacent rooms. As many hotel guests are all too aware, this is not something that is always solved optimally.
The foundations for noise minimisation can be laid as early as the renovation's planning phase. Sometimes, it is the little things that reduce noise and therefore help improve the guests' experience. For example, Geberit sound insulation mats can be installed between the toilet and the wall to prevent vibrations from being transmitted to the wall. Supply systems can be installed in line with sound insulation requirements by using fastenings that are insulated against structure-borne sound.
An elegant, thorough and not particularly time-consuming way to redesign bathrooms while ensuring that everything works in a sound-optimised fashion is to use prewall installations. These consist of support systems and installation elements that are acoustically decoupled from the wall (for example, Geberit GIS or Geberit Duofix) as well as building drainage systems (for example, Geberit Silent-PP or Geberit Silent-db20). In this way, a single system and its perfectly coordinated elements ensure that the future hotel rooms are quiet.
GOOD DESIGN
Bathroom design is a key aspect in hotels; this is not just about having a stylishly furnished and designed bathroom, but more about it having a functional one. A lack of functional added value – such as easy cleaning, for example – takes the shine off the bathroom. Additional useful functions, such as odour extraction with Geberit DuoFresh, round off the good design of the products.
The new Geberit Olona shower surface is ideal for floor-even showers. The surface design covered in Gelcoat gives the matt white shower surface a visible and tangibly elegant look and is easy to clean. The drain cover in the same colour is aesthetically enhanced by a slim-line chrome ring. Thanks to its Class B antislip properties, the shower surface offers secure footing. With the Olana shower surface you have a functional design that also meets hygiene requirements.
So, with the right approach, it is not too difficult for hoteliers to please guests while also benefiting themselves.