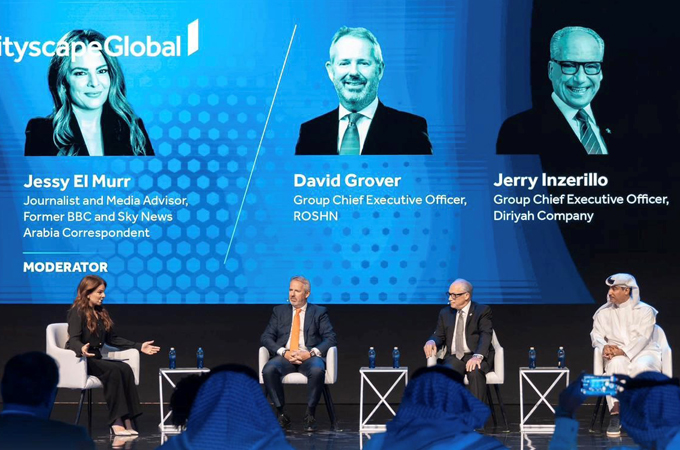 Despite initial scepticism outside the region over Saudi Arabia's giga-projects and their unparallelled ambitions, the projects have become a reality giving a huge thrust to the Kingdom's Vision 2030, three top CEOs told a conference at Cityscape Global in Riyadh.
Dr Fahad bin Mushayt, CEO of Saudi Tourism Investment Company (Asfar, a PIF subsidiary); Jerry Inzerillo, CEO of Diriyah Gate Development Authority; and David Grover, CEO of ROSHN, spoke of challenges ahead at the Future of Living main stage of the event.
Talking about the company behind the SAR63 billion ($16.8 billion) giga project at Diriyah, Inzerillo said: "We feel a profound responsibility. But what's unique about today is it is no longer conceptual or theoretical. What will happen - and it started in 2022 - is we will open assets, break ground on new assets, and announce further assets with anticipation of substantial completion in time for the World Expo 2030".
Roshn's Grover said the developer was working in 10 cites at the same time. "That brings different challenges. First of all, there are different architectural styles around the Kingdom. It's really important we respect those and that we create communities that blend in with existing culture. Also, one of the challenges is bringing international best practice.
"But everybody is rising to the challenge. The quality of design and building concepts compared to just three or four years ago is worlds apart. It's phenomenal how much the industry is moving forward," he said.
"Three years ago, we hadn't put a shovel in the ground. But now we are off, and by the end of the year we'll have 3,000-plus families living at our first site."
The project has 60 nationalities in its workforce, including a significant percentage of women at C-suite level. It also has an active graduate programme for women returning to work that last year attracted 24,000 applicants and therefore was vastly oversubscribed, he said.
Tourism driving employment
Tourism is meant to boost Saudi employment as the Kingdom steers away from an oil-based economy. Its target is to attract some 100 million visitors by 2023.
Dr Mushayt of Asfar said the company will announce its first projects soon and encouraging international partners to come to Saudi Arabia.
Inzerillo said Diriyah project will make the birthplace of the Kingdom one of the great gathering places of the world. It is doing so using local talent while keeping the heritage intact. Eight five million mud bricks are being used so that modernity can co-exist with heritage, he said.
He said: "We are taking in enthusiastic, highly educated, great young Saudi men and women and giving them a great opportunity for the present and their future."
Public-private partnerships (PPS)
With Saudi encouraging international real estate, tourism, leisure, sports, tech, sustainability, and educational players to come forward, the potential for PPS was on the spotlight at the show's Property Portfolio Forum.
Speakers said public-private partnerships were "the best route" in the hospitality and leisure sector.
Shafiq Akbar, CEO of Imarat, Graana.com & Agency 21, said the proposed projects are of huge magnitude and $1 trillion of investment likely to come in as Saudi Arabia starts to put structures in place. "Everybody is hopeful, everybody's excited. As far as PPP is concerned, I think this is the best route.
"Yes, the projects are obviously supported by the Public Investment Fund; however they need investments from the private sector and banks as well. Saudi Arabia has been very successful is in attracting the best players in the market," Akbar said.
Meanwhile, it is clear international firms are opening offices in Riyadh to capture opportunities. API Global, a UK property investment and residential property specialist, is among them. Michael Leighton, CEO and founder, said Riyadh will be the firm's second city in the Middle East after opening in Dubai in 2013.
Said Leighton: "The opportunity is incredible. What my team and I have seen here is amazing. Everybody is so forthcoming, willing to learn, and they want to have a conversation - they want to learn about offshore investment. So, yes, we are really positive." - TradeArabia News Service