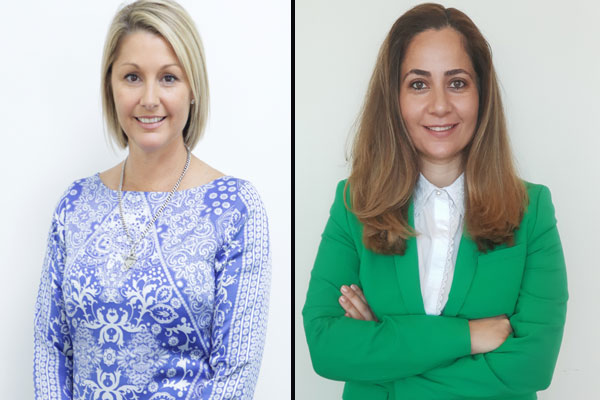 Kirsten O'Neill and Nour Sabbagh
Serco Middle East, a leading provider of public services, has announced two major appointments - Kirsten O'Neill as citizen services director and Nour Sabbagh as government services solutions director - in bid to boost its growth in the region.
The duo has been hired to support with strengthening Serco Middle East's Government Services division within the company's core sector of Citizen Services across the UAE and Saudi Arabia.
In her new role, O'Neill will lead on the expansion of the company's government services offering, which will focus on supporting the national vision of regional governments through the delivery of enhanced services to citizens. This includes complex case management, employment skills and transformational O&M (Operation and Maintenance) advice to government clients.
She joins Serco Middle East from the Abu Dhabi Airport Company, where she was Head of Passenger Experience, Customer Service and ORAT Operational Planning and Process.
During her tenure in Abu Dhabi Airport Company, she was responsible for the design and implementation of the future passenger experience strategy, experience product portfolio, and operational readiness requirements across all touchpoints for the Abu Dhabi International Airport.
On her new role, O'Neill said: "Serco is committed to supporting our regional governments in delivering the best government services to citizens so it's a great time to be joining the team as we embark on growing this sector across the Middle East, with a focus on the UAE and Saudi Arabia."
"I'm looking forward to the opportunity to roll out new strategies and portfolios, and deliver improved experiences for all our citizens within the region," she stated.
To further support her, Sabbagh joins the growth team and will also be fundamental to growing the sector in both the UAE and Saudi Arabia.
Prior to this, Sabbagh had worked for the UAE Prime Minister's Office as part of the team that operates the government accelerators.
There she creatively and effectively applied her skills in designing and executing innovative programmes that delivered transformation at scale across the UAE as well as in governments across the globe.
On her appointment, Sabbagh said: "I am proud to be joining Serco Middle East at a time where we have the opportunity to grow the business and strengthen the government services division."
"We have so many ideas on how we can establish this sector and provide new services, skills and advice to our government clients to enable sustainable and cost-effective outcomes whilst keeping nationalisation front of mind, he added.
Welcoming the duo, CEO Phil Malem said: "The future of government services is in outsourcing, so having both O'Neill and Sabbagh driving our government services offering here in the UAE and in Saudi Arabia puts us in great stead to strengthen and grow this division, as well as the business as a whole."
"Both employees have a wealth of experience in this sector so we believe they will continue their excellent track record with Serco and help make a positive difference to the business. We look forward to welcoming them to the team and supporting them as they start this new chapter in their careers," he added.-TradeArabia News Service