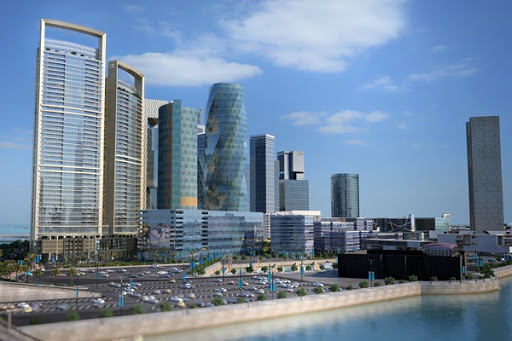 Kooheji Development, one of the largest real estate developers in Bahrain, said it has awarded Marazzi Group Italy, a leader in the design, manufacturing and distribution of ceramic and porcelain stoneware floor and wall tiles, the contract for all the tiles requirements for its Onyx Bahrain Bay project.
Onyx Bahrain Bay requires over 1.6 million sq ft of tiles and Marazzi Group has been appointed as one of the suppliers to collaborate with Kooheji real estate team to supply wide range of tiles.
The assigned two top international award-winning interior designers by Kooheji Development developed bespoke two distinctive themes and colour collection for Onyx Bahrain Bay apartments.
The two themes are the Madison and the Kingsbridge. Both themes have been designed as a definitive statement of style, with the floor-to-ceiling windows and every apartment having been designed to maximise the view as well as focus on providing generous amounts of living space through effective interior space planning.
General Manager Mohammed Abdulghaffar Al Kooheji said: "Kooheji Development has been long respected for the intelligent integration of architecture and interior design, our philosophy 'simplicity creates beauty' is demonstrated in the use of the highest quality materials, sophisticated colours and strong attention to details."
"Our methodology has proved to be a success in creating unique real estate development and high-rise residential towers that shaped the residential towers lifestyle experience in Bahrain, by elevating the community experience and adding unique amenities to the residential towers' lifestyle," he explained.
Al Kooheji said: "We have been the standard-bearers for the high-rise residential towers' experience and with our iconic asset Onyx Bahrain Bay for its uniqueness in terms of its strategic location being in Bahrain's most prestigious address - Bahrain Bay, we will be introducing a new standard of luxury residential towers in Bahrain to raise the bar higher."
"Hence comes the necessity to partner with the leading company in the design, manufacturing and distribution porcelain stoneware floor and wall tiles, such as Marazzi Group, not only to select their top-of-the-range collection but also to ensure that their team partner closely with our architects and interior designers to achieve the required new standards" stated the top official.
"We strive to add unique real estate products to Bahrain skyline that is appealing to shareholders and apartments' owners, while offering unique five-star hospitality lifestyle to our residents," noted Al Kooheji.
"We work together with our partners to enhance the concept, creating functional, unique features that bring the project to life," he added.
On the selection of tiles, Al Kooheji said: "These are Marazzi' s top-of-the-range and finest tiles available worldwide. The design, finishes and patterns has been carefully selected by Kooheji' s interior design team and engineers with pre-set criteria for our project to ensure it achieves the required functionality and complements the project's colour pallets."
"We have selected marbles finishes of tiles ranges from cool to warm colours such as Statuario, Calacatta, Armani Grey, dolomite, Tafu and grey Travertine to complement our interior designer pallets ranging from light cool colour to warm colours," he noted.
"For the Madison, we have selected the cool pallet marble imitation with very light veins with saturated cool affect to complement our cool pallets. As for the warm pallet we have selected marble imitation with darker, stronger colour and more variation in colours to complement our warm pallet colour," he added.
Marazzi Group Italy Regional Manager Wajdi Ahmadie said: "We are proud to announce our deal and commitment with Kooheji Development in their iconic new high-rise project Onyx Bahrain Bay, which is a unique concept in the GCC and Bahrain in terms of design, quality and vanguard technology."
"We will be suppling our key products, and for the first time in Bahrain, our "full body porcelain tiles in slabs" Made in Italy which is the best in design and most expensive tile imitation of marble look, wood and stone finish made using our latest technology of 2019," he added.-TradeArabia News Service