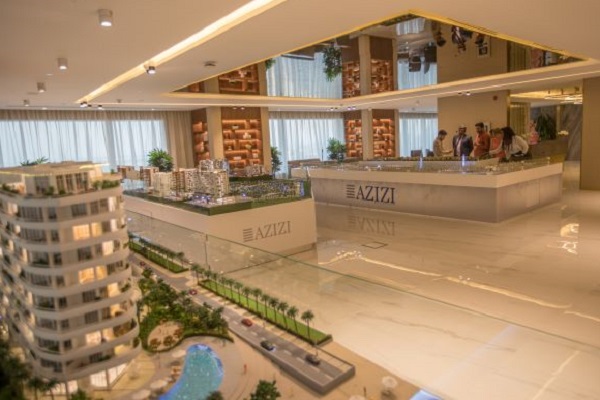 Azizi Developments, a leading private developer in the UAE, has announced the reopening of its sales gallery in Dubai following the directives of the UAE government regarding movement restrictions, which have now been relaxed to allow certain sectors to resume operations.
Located at the five-star Conrad Hotel on Sheikh Zayed Road, the almost-10,000 sq ft centre delivers effective services through a seamless integration of all customer journey touchpoints.
As per the new directives, all visitors must comply with the mandatory social distancing and prevention guidelines issued by the authorities, including the wearing of masks and gloves.
Anyone entering the Sales Gallery, including staff and visitors, will undergo temperature screening and checks said a statement from Azizi.
Meetings will be minimised, with a maximum of 3 persons per gathering and an adherence to the two-meter social distancing regulation. Elevators will only be 30% occupied at all times, it added.
Executive Director (Sales and Marketing) Nima Khojasteh said: "We are excited to welcome our valued customers and stakeholders back to our exceptional, state-of-the-art Sales Gallery with all of its carefully thought-out features."
"Our Sales Gallery, which is open from 10am to 4pm Saturday to Thursday, is reflective of our customer centric approach, granting visitors a sophisticated, informative, transparent and convenient property purchasing experience," he stated.
"We have taken all necessary precautions to ensure that investors can learn more about our world-class properties across Dubai's most sought-after residential destinations in a safe and worry-free environment," noted Khojasteh.
According to him, the UAE construction sector, which is pivotal to the economy and well-being of residents, was – and will remain - fully operational throughout the current global situation.
With Azizi being a leading developer in this vital, functioning industry, all of its projects are in full swing, stated Khojasteh.
"In the first three months, we have casted over 112 slabs, poured over 55,970 cu m of concrete, and constructed over 1,326,978 sq ft of BUA, with a monthly average building progress of nearly 10% per cent and over 1,637,421 recorded man-hours," he added.-TradeArabia News Service