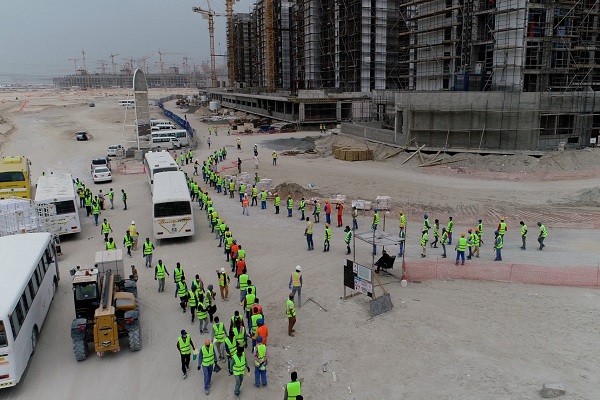 Azizi Developments, a leading private developer in the UAE, has announced that its projects across Mohammed Bin Rashid (MBR) City, Palm Jumeirah, Dubai Healthcare City, Al Furjan, and Downtown Jebel Ali are well under way, with construction progressing swiftly despite the global Covid-19 challenges.
According to the 24-hour sterilisation programme issued by Dubai's Supreme Committee of Crisis and Disaster Management, some sectors are exempted from the restrictions, including the construction sector, which is pivotal to the UAE's economy and the well-being of its residents.
With Azizi being a leading developer in this vital, functioning industry, all of its projects are currently in full swing, said a top official.
"As a construction-focused developer, we are working around the clock to complete our projects, especially now, at a time when a comfortable home is more important than ever before," remarked CEO Farhad Azizi.
"While we have taken several precautions, we are fully operational and proud to be a leading entity in one of the UAE's most vital sectors," he stated.
In the first three months, Azizi Developments has casted over 112 slabs, poured over 55,970 cu m of concrete, and constructed over 1,326,978 sq ft of built-up area (BUA), with a monthly average building progress of nearly eight per cent and over 1,637,421 recorded man-hours.
Azizi's Al Furjan projects - Star, Shaista, and Plaza - recorded 72, 78, and 90 per cent construction completion rates respectively.
Aura in Jebel Ali is at 85 per cent and Mina has reached a construction milestone of 91 per cent, while Aliyah in Dubai Healthcare City was completed last year, and Samia and Farishta in Al Furjan earlier this year.
According to Azizi, construction at Riviera is now at 60 per cent, with infrastructure work progressing swiftly.
Several buildings in the first phase of Riviera are scheduled for completion by year's end, with handovers taking place shortly thereafter, it stated.
Azizi has set an ambitious plan to complete a total of approximately 3,000 units this year.
"We are committed to our unremitting pursuance of developing homes and lifestyles, and our integral role in safeguarding the real estate sector against the implications of Covid-19," noted the top official.
"Despite the current global situation, we will continue to develop our projects at an accelerated pace and proactively serve as a catalyst to the UAE's vision and development, which is both a privilege and an honour that guides our every step," he added.-TradeArabia News Service