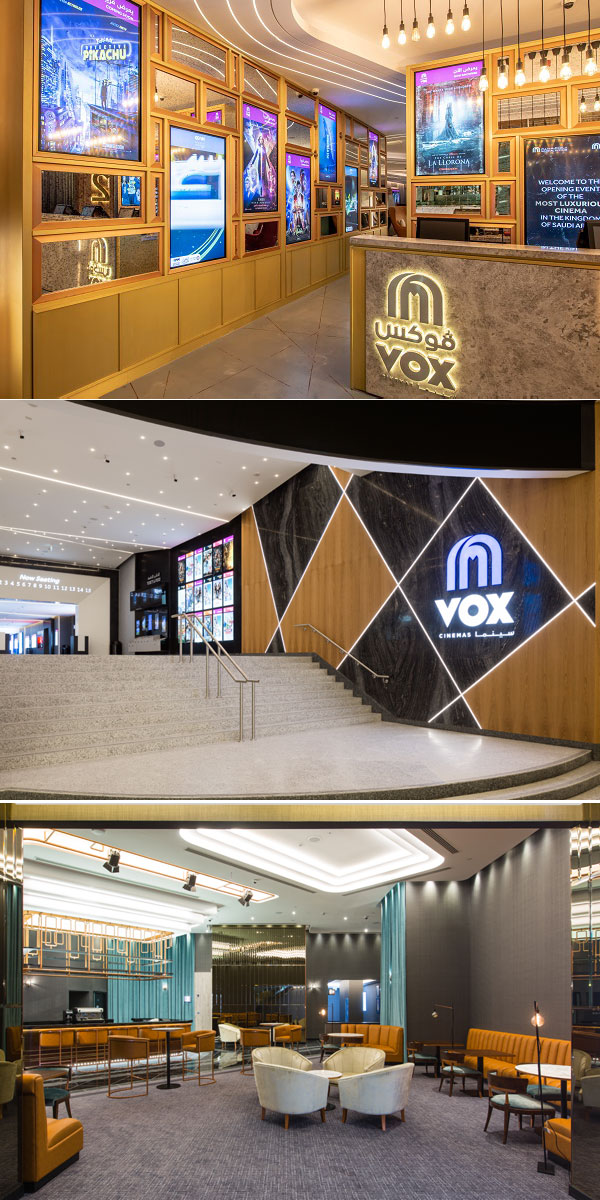 Regional interior contractor Havelock One has completed the fit-out works for VOX Cinemas at Nakheel Mall in The Palm Jumeirah, Dubai, its fifth new VOX Cinemas outlet this year.
The 6,000-sq-m Nakheel Mall project boasts 15 theatres with more than 900 seats and additional 26 slots designed to provide ample space for wheelchair users who have dedicated elevator access across the two floors.
Of these theatres, four offer a fine-dining experience with their own VIP lounges, one features a MAX mega-screen with 282 spacious premium view seats and a Kids auditorium, also equipped with a comfortable reception and play area.
The region's leisure and entertainment industry is buoyant; and for Havelock One Interiors, this means business is brisk, said a top official.
"Our business relationship with Majid Al Futtaim (MAF) Cinemas, the Middle East's largest and most rapidly growing exhibitor, has grown steadily," remarked Syed Kashif Akhtar, group managing director of Havelock One.
"This year, we had been commissioned to work on two additional VOX Cinemas in the UAE and on two of their ground-breaking projects in Saudi Arabia," he stated.
Havelock One's scope on the Nakheel Mall project covered the full turnkey fit-out from shell and core. This included the steel structure for the cinema stadia and plant rooms, the complete mechanical, electrical and plumbing (MEP) works, acoustic ceilings and walls, and all interior finishes including gypsum, cladding (marble, ceramic, carpet, vinyl and terrazzo), wallpapers and paint, decorative glass and metal works, as well as joinery works like furniture and fire-rated doors.
Furthermore, the contractor co-ordinated with the client and third parties on all cinema-related equipment such as screens, projectors, speakers and seats.
Having completed six cinemas under the VOX Cinemas brand across the GCC to date is clearly an achievement for the trusted turnkey fit-out contractor, said the top official. Havelock One had completed fit out of a VOX Cinemas outlet at The Avenues - Bahrain in 2018.
In September, Havelock One completed the fit-out of one of the largest cinema complexes in the region at the extension of The Galleria, Al Maryah Island, Abu Dhabi. Comprising 21 screens with a total seating capacity of 1,785 seats, the project also featured Abu Dhabi's first laser IMAX auditorium, which seats 450 guests, stated Akhtar.
In addition, the experienced interiors company also fitted out the affiliated food and beverage (F&B) outlets, Nutella VOX Cinemas, Pizza Al Taglio and Kitchen 35, all VOX Cinemas homegrown brands, completing the entertainment experience.
Earlier this year, Havelock One was signed up for the turnkey fit-out of the VOX Cinemas at Al Jimi Mall in Al Ain, Abu Dhabi. The package included eight screens comprising a MAX auditorium, four standard auditoria, a KIDS auditorium and two auditoria offering fine dining options.
Adrian Sellar, the division director for fit-out UAE at Havelock One, said: "These projects have allowed us to demonstrate our broader technical expertise in the delivery of mainstream construction activities; such as builder works including concrete screed, blockwork and structural steel, adding to our core fit-out services and products."
"This confirms Havelock One's commitment to be a trusted service provider capable of managing multiple trade packages as well as executing the on-site works," stated Sellar.
In the Saudi capital Riyadh, Havelock One project teams completed the fit-out of two VOX Cinemas. The first project was at the Roof Mall, which opened in March; and in April, the second followed at The Kingdom Tower.
The latter offers an experience doing justice to the prime location in the capital city: Each of the eight auditoria has fully reclining leather seats and state-of-the-art acoustics.
The multiplex features a fine dining lounge, conceived by Bishop Design by Paul Bishop, and has also been equipped with fully functional kitchens to serve five-star meals to VIP guests during the screenings, remarked Sellar.
"These are certainly exciting times for the entertainment industry in the region. With our highly trained and experienced workforce, employed across GCC markets and at our 300,000-sq-ft manufacturing hub in Bahrain, Havelock One is ready to serve many more state-of-the-art cinema and entertainment complexes in Saudi Arabia," he added.-TradeArabia News Service