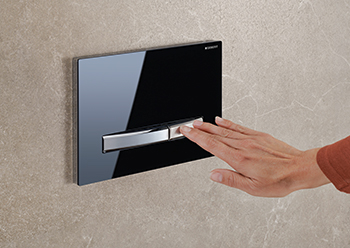 Geberit's innovations such as dual-flush and stop-and-go cisterns have helped to reduce water consumption for toilet flushing by around 80 per cent since 1952.
Geberit, a global leader in sanitary technology, aims to play a leading role in the transition towards a sustainable sanitary industry. Its innovative, high-quality, and durable sanitary products have a positive impact on the industry, society, and the environment, says the Switzerland-based sanitary solutions provider.
The company has a long tradition of manufacturing water-saving products, especially WC cisterns. More than 30 years ago, Geberit drew up its first environmental strategy and implemented specific measures. Over the years, this strategy has become more comprehensive and is based on the UN Agenda 2030 and its 17 Sustainable Development Goals (SDGs).
Geberit's primary focus is on Goal 6 (Clean Water and Sanitation), Goal 8 (Decent work and Economic Growth), Goal 9 (Industry, Innovation and Infrastructure) and Goal 11 (Sustainable Cities and Communities).
Where water technology is concerned (Goals 6 and 11), its innovations such as dual-flush and stop-and-go cisterns have helped to reduce water consumption for toilet flushing by around 80 per cent since 1952, from 70 litres to 14 litres per person per day.
Other Geberit water-saving solutions include:
• The 212 flush valve, which allows the WC ceramic appliance to be flushed with as little as 3.5 litres of water for a full flush and 2.6 litres for a partial flush. It is backwards-compatible with all the Geberit Sigma, Delta and Omega concealed cisterns.
• Urinals with electronic flush control that can flush clean with just 0.5 litres of water or even be operated without water. Rimless Preda, Selva, Tamina and Narva urinals meet the highest standards of sustainable construction and economical operation due to their low resource consumption.
In addition to its water-saving solutions, Geberit is also committed to developing WC technology and design that is both user-friendly and hygienic, while also facilitating installation works by sanitary professionals.
"Toilets from Geberit are very easy to clean and impress with an outstanding and quiet flush performance," says Louise Pitt, Head of Marketing and Communication (Gulf Office), Geberit International Sales. "They reflect the company's decades of expertise and show that all components, from the WC ceramic appliance to the cistern in front of or behind the wall, are optimally coordinated. Clever installation systems for prewalls enable sanitary specialists to install the system very quickly and easily, while optimally coordinated components can be used to develop customised solutions."
Geberit has developed the TurboFlush technology that ensures a powerful and thorough flush with every use. The company's experts were able to optimise the entire flow of water, from the cistern to the toilet and on to the drain.
"The inner geometry of Geberit's WC ceramic appliances with TurboFlush is designed to convert the energy of the water from the cistern into the best possible WC flush, guiding the flush water through the rimless ceramic appliance in a powerful whirl. The outflowing water is precisely controlled and enables a thorough flush across the entire bowl. The flush performance is up to 10 times higher than the requirements of international standards," Pitt states.
For enhanced personal hygiene, Geberit offers shower toilets that provide a gentle and thorough cleaning experience, using warm water instead of toilet paper.
Meanwhile, homeowners can also save money and water and energy resources by careful use of water.
"The careful use of water as a resource makes sense. First of all, you reduce the amount of money you spend on water. Secondly, saving water helps protect the environment. After all, the treatment of drinking water, and the transport and disposal of waste water require a lot of energy.
"At least half of the water used every day in households in the western world is consumed in the bathroom. That's why it's worth leveraging the savings potential in the bathroom," she states.
Pitt points out that water consumption in the bathroom can be reduced significantly by:
• Showering instead of bathing: Around 150 litres of water is needed to fill a bathtub, in comparison to just 50 litres for a five-minute shower;
• Using a water-saving shower head: A water-saving shower head can reduce the rate of flow of water in the shower by almost half. The rate of flow of water can also be reduced using special tap enhancement solutions;
• Turning off the tap temporarily while brushing teeth, washing hands and shaving;
• Reducing the amount of hot water used;
• Repairing any dripping taps;
• Using a dual flush: Geberit has launched both the flush stop – which can be retrofitted quickly and easily – and the dual flush.