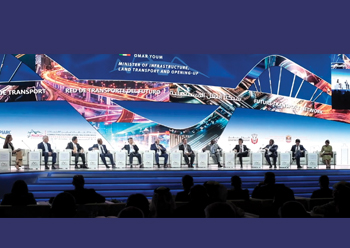 The 26th World Road Congress was held in Abu Dhabi in 2019.
The first post-Covid World Road Congress, set to be held in the Czech Republic capital Prague this month (October 2 to 6) is expected to be attended by representatives of 96 countries and will feature 30 national pavilions, 16 more than the last edition in 2019 held in the UAE.
The 27th World Road Congress will provide global insights on the current practices and future trends in the road infrastructure and mobility sector. Experts will also cover new topics such as electromobility and autonomous vehicles and the industry's shift towards carbon neutrality.
It will include Ministers Sessions, which will bring together the highest representatives of infrastructure and transport from 40 to 60 countries around the world to discuss roads and opportunities and challenges globally; Keynote Sessions, where the speakers will comprise high-level individuals from both the international community and the Czech and Slovak environments; and Technical Sessions, where the results of the work of PIARC (World Road Association) technical committees and task forces – which brought together over 1,200 experts from more than 80 countries over four years – will be presented.
For the Prague Congress Centre and the Czech Republic, hosting the world's largest summit of road transport experts is a huge achievement. "Prague won the prestigious congress with 122 points, ahead of cities like Kuala Lumpur and Sydney. This will be the second time in our history that we will be hosting the World Road Congress, after more than fifty years," explains Martin Kupka, Minister of Transport of the Czech Republic.
The 26th World Road Congress was held in Abu Dhabi in October 2019. Organised by PIARC and the Abu Dhabi Department of Transportation (DoT), the event brought together more than 6,000 participants from 144 countries, over 3,700 delegates and 40 ministers and deputy ministers from around the world.