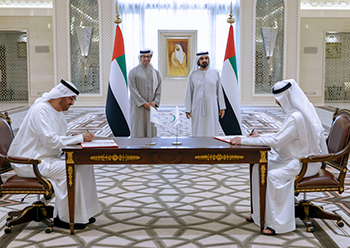 Dr Al Jaber and Al Tayer sign the agreement in the presence of Shaikh Mohammed.
Dubai Electricity and Water Authority (Dewa) has awarded a major contract to Abu Dhabi-based Masdar for the construction of the 1,800MW sixth phase of Mohammed bin Rashid Al Maktoum Solar Park, at a total cost of AED5.51 billion ($1.5 billion).
Masdar, the UAE's clean energy powerhouse, emerged the winner with a Levellised Cost of Energy (LCOE) of $1.6215 cents per kilowatt hour (kWh), after beating competition from 23 high-calibre international bidders.
Masdar's bid was the lowest of any of Dewa's solar Independent Power Producer (IPP) model projects to date. Also, for the sixth phase it will be using photovoltaic solar panels based on the IPP model.
The agreement was signed by Dr Sultan bin Ahmed Al Jaber, Minister of Industry and Advanced Technology, Chairman of Masdar, and Saeed Mohammed Al Tayer, Managing Director and CEO of Dewa in the presence of HH Sheikh Mohammed bin Rashid Al Maktoum, Vice President, Prime Minister, and Ruler of Dubai, at a key ceremony held in Abu Dhabi.
According to Dewa, the current total production capacity of solar projects at the solar park is 2,427 MW. The 1,800MW sixth phase of the solar park will increase the capacity to 4,660 MW.
When completed, the sixth phase will provide clean energy to approximately 540,000 residences and reduce 2.36 million tonnes of carbon emissions annually. It is expected to become operational in stages starting from Q4 next year.