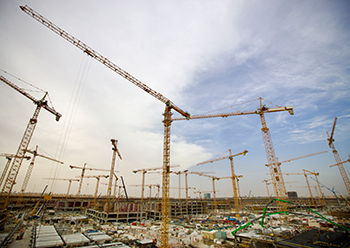 Numerous cranes supplied by NFT are seen engaged on a site in Saudi Arabia.
Cranes from Manitowoc's key brands Potain and Grove continue to loom large on the horizon of a number of GCC countries, where the leading international provider of lifting equipment has been able to capitalise on the resurgence in the construction market over the past year.
In Saudi Arabia, for instance, Manitowoc's exclusive distributor, NFT Crane Group, has more than 100 Potain tower cranes erected around the kingdom with increasing demand coming every day to keep up with the requirements for Vision 2030 projects, Andrew Youssef, General Manager – Africa, Middle East and CIS, tells Gulf Construction in an exclusive interview.
NFT Crane Group and its sister company Arabian Tower Cranes (ATC) Company have been present in the Saudi market since the 1980s, having played a major role in the construction of the kingdom's largest projects over the years.
"Today, they are extremely active across Saudi Arabia with projects such as King Salman Park and The Avenues Mall in Riyadh, Sindalah Island in Neom, and several projects along the Red Sea coast at Amaala and The Red Sea Project, to name a few, deploying a range of Potain cranes throughout," Youssef says.
The Saudi market has been quick to utilise Potain's newest models launched on the market this year – the MCT1005 and MCT1105 – which are some of the largest topless tower cranes available worldwide.
NFT was the first to procure the MCT1005, which was erected recently, he says. This topless crane from Potain's Asian production range has a 69-m free-standing height allowing for the handling of eight tonnes at the tip of the 80-m jib.
Another record-breaking Potain model – the MCT 1105 – which was launched in April this year is already engaged on a prestigious project in Saudi Arabia. "NFT has installed the first unit at the Qiddiya entertainment hub in Riyadh on the top of a cliff, 100 m above ground where the crane needs to lift heavy loads up to 10 tonnes. The crane's large hoist winch and strong capacity are a perfect answer for this challenge. It is installed on a compact 8x8m static undercarriage," Youssef explains.
The MCT1105 has a maximum lifting capacity of 50 tonnes and is able to lift 11 tonnes at the end of its 80-m jib.
Other cranes engaged on projects in Saudi Arabia include Potain's famous self-erectors IGO 36, IGO50 and GTMR386B, which are popular because of their quick erection and manoeuvrability (20 minutes for IGO and few hours for GTMR); traditional tower cranes in the eight-tonne to 14-tonne range, including the MDT178, MC175, MCT205, MC235, MC310, MCT325 and MCT385 with 60-m to 75-m jib, for construction covering the majority of a site's lifting needs. Larger cranes from 25-tonne to 64-tonne are being utilised for special projects involving large precast components as they facilitate fast-track delivery or unique installations that require heavy steel structure, according to Youssef.
So, what are some of the challenges these cranes are tackling on projects in the kingdom?
Youssef elaborates: "Large projects such as the King Salman Park project present a challenge in terms of logistics, where a large number of tower cranes are required at short notice. Fortunately, ATC keeps a large number of tower cranes in stock, which are available quickly for mega projects, and it has many erection crews available on site to install several cranes simultaneously, while providing a large stock of spare parts and technicians on site full time."
"Projects such as Neom and The Avenues Mall Riyadh have very heavy elements that require lifting, and the difficulty is in having to propose large tower cranes quickly," he continues. "Again, ATC is one of the few suppliers in the world that can study a project based on its needs and provide solutions that are immediately available. Multi-crane jobsites require special planning with regards to the installation and future dismantling of the tower cranes; sometimes large tower cranes are placed even to remove smaller ones that would be out of reach of mobile cranes. In addition, selecting the appropriate heights for all cranes in a multi-crane jobsite needs to be done meticulously to ensure the tower can rotate freely, while making sure the foundation permits such heights."
Commenting on its business performance in the Gulf region over the past year, Youssef says, like other heavy machinery manufacturers, Manitowoc has benefited from the market resurgence over the past 12 months.
"This resurgence is a culmination of pent-up demand, supply chain stability, and mega project announcements," he explains. "Our office in the Middle East was able to capitalise on the market upswing due to the decisions made at our factories to control costs and ensure constant communication with our customers and dealers. We have seen new machine sales increase across both mobile and tower product lines."
Most notably, Youssef points outs, Manitowoc's mobile aftermarket sales has grown 46 per cent year-on-year as customers look to refurbish their Grove cranes for a second or third life as new crane lead times and availability lengthen.
"We know that cranes are a cyclical business and we look to take advantage of this demand wave across the Middle East," he adds.
Manitowoc's main markets across the GCC are Saudi Arabia, Qatar and the UAE.
Recently, Manitowoc launched the Cranes+50 initiative which focuses on growing its non-new machine revenue by 50 per cent over the next five years. Its team and dealers met last February in Dubai to discuss strategies and actions on how to provide its customers with better service, parts availability and aftermarket solutions.
Some of Manitowoc's most popular models in the region are:
• Potain MCT 565, which is available in 20-, 25- and 32-tonne versions. "This versatile model is playing a pivotal role in reshaping skylines in cities such as Dubai, Riyadh, and Neom. Just under a dozen units are currently installed, spread out over Jeddah, Tabuk and Riyadh to assist contractors with heavy lifting – be it precast panels, steel structures or other special elements," he says.
• Grove GMK5250XL-1 with a 250-tonne capacity and 78.5-m main boom. This single-engine design has one of the longest boom and highest capacities in the industry with a small footprint and excellent manoeuvrability, Manitowoc says.
• Grove GMK6300L-1 with a 300-tonne capacity and 80-m main boom. This best-in-class 300-tonne all-terrain crane continues the success story of the GMK6300L, offering even better lifting capacities, especially on the long boom, according to the manufacturer.
• Grove GRT8100-1 is a 100-tonne rough-terrain crane with a five-section, 12-m to 47-m full-power Megaform boom. The crane integrates the wide cab and carrier of the GRT8120 with the superstructure of the GRT8100 to bring improved operation, easier serviceability, and added jobsite flexibility with the MAXbase outrigger system.
Another new Grove model, the Grove GMK6400-1, featured at Bauma construction equipment exhibition in Munich, Germany last year, has quickly become one of Manitowoc's most popular models.
"It is the strongest heavy-duty six-axle crane on the market with a self-rigging MegaWingLift and can take on jobs that would usually require a seven- or eight-axle model," Youssef claims.