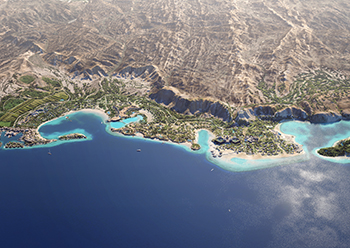 Amaala's Triple Bay wellness and sports community on the Red Sea.
Saudi-based Ladun Investment Company has announced that its subsidiary, Built Aluminum Factory (Bafco), has been awarded two contracts worth a total of SR101.9 million ($27.15 million) for carrying out aluminium and facade works for two resorts at Amaala's Triple Bay wellness and sports community on the Red Sea.
These include a SR77.53-million deal for aluminium works for the Four Seasons – Triple Bay and a SR24.38 million contract for façade work on the Six Senses – Triple Bay, according to Ladun Investment Company's filings in the Saudi Stock Exchange.
The works cover facades for villas, hotels and palaces of the tourist resorts.
Amaala is a stunning wellness destination in Al-Wajh Governorate of the Tabuk region, in the northwest of Saudi Arabia. Being developed by Red Sea Global (RSG), a pioneering multi-project developer based in the kingdom, the project is centred around the three pillars of wellness and sports, arts and culture, and sea, sun and lifestyle. The 3,800-sq-km destination is located in the spectacular Prince Mohammed bin Salman (MBS) Nature Reserve and is blessed with dramatic coastal scenery, majestic mountainous backdrops, pristine white-sand beaches, and untouched coastal reefs.
Set against a backdrop of imposing mountains and running alongside a coastline of beautiful coves, Triple Bay will spread over 11.3 sq km and encompass 16 hotels with 1,325 hospitality keys and 435 residential units.
Six Senses – Triple Bay will offer 64 rooms, six suites, 30 villas, and 25 branded residences, designed by architects U+A and with interiors by Studio Carter. These facilities are inspired by the region's traditional coastal villages, which seamlessly integrate with the naturally occurring topography and use locally sourced materials.
Bafco's contract for the Six Senses resort is scheduled for completion in 454 days, while that for the Four Seasons – Triple Bay is to be completed in 367 days.
Bafco is owned by Built Industrial Company, a subsidiary of Ladun Investment Company. Its 4,000-sq-m factory, located in the industrial area of Huraymila Governorate in Riyadh region, produces building facades and aluminium panels. It has an annual production capacity of 31,000 sq m of building facades and cladding, 10,000 sq m of glass facades, 30,000 protection windows, aluminum windows and frames, 10,000 sq m of aluminium doors, and 5,700 linear metres of kitchens and counters.