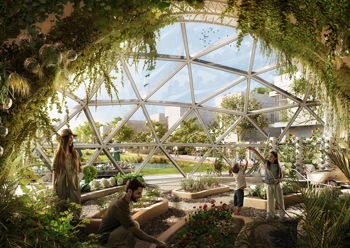 Phase One of Sustainable City – Yas Island includes 512 homes.
Abu Dhabi developer Aldar Properties has announced that all the 512 residential units within the first phase of its Sustainable City – Yas Island project have been sold within 24 hours of its public launch.
Aldar is building the fully sustainable community on Yas Island in partnership with Diamond Developers to cash in on the growing demand for eco-friendly living options.
The Sustainable City – Yas Island will feature hundreds of condominiums and townhouses that will be powered by clean renewable energy and equipped with biodomes, solar panels and battery-charged communal vehicles to promote energy efficiency and lower emissions.
According to Aldar, work on the project will begin in Q2, with first handovers likely in Q4 2025.
Reflecting the resounding success of Aldar's first partnership on a development, sales at the first phase of the sustainability-centric community reached over AED1 billion ($272.2 million) and the remaining 352 townhouses and condominiums have now been released for sale.
Of the sold units, around 76 per cent has been snapped up by expatriates, of which 24 per cent were overseas investors, demonstrating Aldar's growing international customer base, it added.