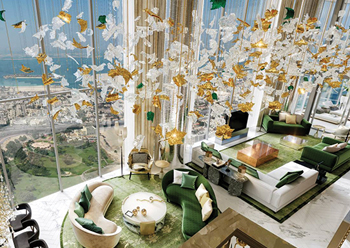 Cavalli Tower, an ultra-luxurious 70-storey building.
Leading UAE developer Damac Properties said it has started piling work for Cavalli Tower, an ultra-luxurious 70-storey building that was launched last year.
The Cavalli-branded skyscraper, located in Dubai Marina, is being built at a total investment of $545 million. On completion, it will offer occupants stunning views of Palm Jumeirah and premium interior designs by Italian fashion house Roberto Cavalli.
The piling work is being carried out by National Piling & Land Draining Works. A total of 213 piles and 1,400 tonnes of steel and 10,000 cu m of concrete are being used in the piling process.
Cavalli Tower, which was launched in September 2021, comprises 485 units which are divided into three sections – the first floors are considered luxury, the middle section is upper luxury, while the top floors offer super luxury features.
Luxury and upper luxury sections will have access to their own sky pool and sky gardens, while the super luxury category boasts an infinity pool, a cigar lounge and a private pavilion where residents can host their own private dinner parties and hire their own chefs, stated the developer.
Every home in the super-luxury category will either have its own private pool or jacuzzi and all units – whether a two-bedroom apartment or a five-bedroom duplex – and enjoy balconies and high ceilings promoting stunning sea vistas, it added.
According to Damac, a unique feature of the tower is its four-storey-high Cavalli-branded lobby with a striking skylight. The interiors are finished in marble and wood parquet flooring.
Designed by award-winning architect Shaun Killa – who also created the Dubai Museum of the Future – the tower is expected to be completed in four years' time, said the developer.
The Cavalli Tower boasts a Malibu Bay-like beach pool in the gardens, replicating the beach down to the smallest details, including artificial sand. Surrounding the 900-sq-m pool will be food outlets and lush green surroundings.
The tower also features six panoramic jet elevators that glide through the creative Cavalli Tower cutouts.